Thursday, April 08, 2010
May I borrow your brains and flying fingers?
Dear Readers,
Just like Brenda Starr, the comic book girl reporter first published in the 1940's, I need some
newsy tidbits
!
Have you ever seen articles -- online, in newspapers, magazines -- about me or the PHANTOM STALLION, WILD HORSE ISLAND, SEVEN TEARS INTO THE SEA or my horsey activities which you think I should share?
As you might've guessed, I'm putting big dollops of my time into helping the horses, but it's really time for me to update my press kit (which is something journalists and book publishers look at to see who I am and what I'm up to), and many of you have been keeping up better than I have.
I'm especially interested in articles published in other countries.
Any help would be wonderful and you can email me links at
[email protected]
Thanks SO much!
Terri
Labels: phantom stallion, seven tears into the sea, terri farley, wild horse advocate, wild horse island
Permalink to this blog post
Posted by Terri Farley @ 4:57 PM
0 comments
---
Monday, April 05, 2010
Ghost Dancer: still there
Dear Readers,
The Medicine Hat mare with the magnetic mood is still at the Indian Lakes BLM holding facility in Fallon.
She's shown here, photographed by Mark Terrell, just a few weeks after capture.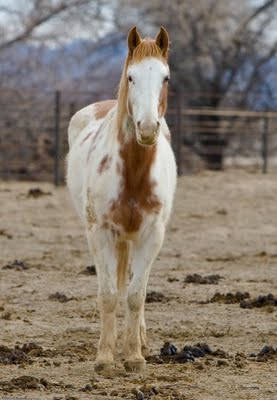 In these two photos -- one by Craig Downer and the other by Tara Kain -- she's been put in a pneumatic cage,vaccinated, hung with a red rope and numbered tag, then neck branded. You can see the freeze brand on her neck if you look closely. It will be there forever.
She looks thinner, even though food is delivered at the fence.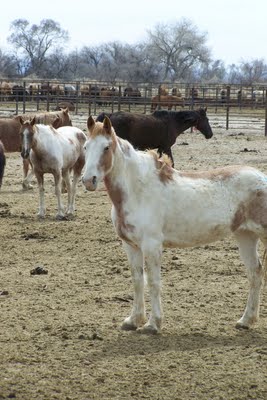 I'm calling this mustang Ghost Dancer because she once roamed Native American lands and the Ghost Dance ceremony was one of rebirth.
That's what I wish for these horses, a return to the range where their spirits can run free again.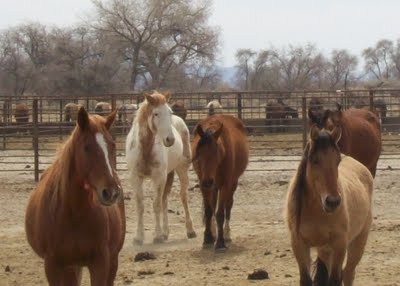 Best to you all,
Terri
Labels: Craig Downer, Fallon, Indian Lakes, Medicine Hat, mustang, terri farley, wild horses
Permalink to this blog post
Posted by Terri Farley @ 2:52 AM
4 comments
---
Saturday, April 03, 2010
Phantom foals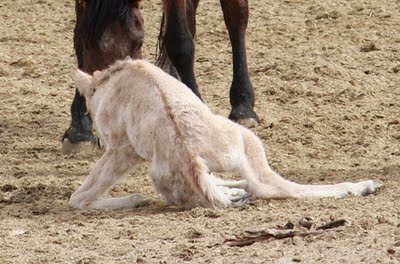 photo used by permission of Cat Kindsfather

Three things to think about:
1)
Newborn horses like the dun foal above
-- trying to rise and nurse despite a broken leg suffered in a corral crowded with adult horses --
do not exist in the world of BLM
until they are branded.
2) Only one vet is under contract to care for the thousands of mustangs in BOTH the Fallon and Palomino Valley facilities.
3) Despite promises to welcome the public at wild horse gathers and holding pens, program manager Don Glenn allows NO humane observers at the wild horse facilities except "by appointment"
If you object, please sign this petition to President Obama, asking for
an immediate moratorium on wild horse roundups
Labels: BLM, Don Glenn, Indian Lakes, mustangs, Palomino Valley, phantom foals, pigeon fever, terri farley, wild horse deaths, wild horses
Permalink to this blog post
Posted by Terri Farley @ 2:00 AM
7 comments
---
Friday, April 02, 2010
Pigeon Fever Plagues Calico Horses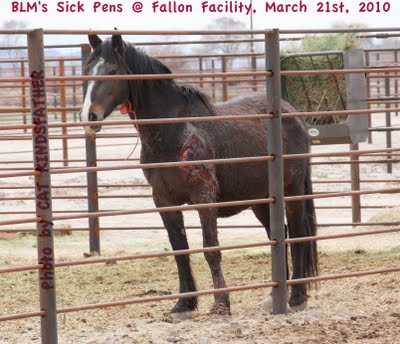 photo by Cat Kindsfather
Dear Readers,
The misery visited on the wild horses of the Calico mountains goes on.
Pigeon Fever was diagnosed by visitors to the feedlot style holding pens in Fallon, a place called Indian Lakes. Sounds nice, doesn't it?
Sadly, the photo I showed you a few days ago -- -shown again above -- could be a horse suffering from this condition.
Treatment for Pigeon Fever includes warm compresses, ISOLATION and hygenic conditions. Wild horses at Indian Lakes are getting none of this treatment.
Why?
"The incidence of Pigeon Fever at the Indian Lake Facility is at the same percentages that exist on the Calico Complex," BLM's contract vet, Dr. Sanford says, so "no treatments have been administered to date."
Even if this condition crops up on the range, too, horses running free do NOT stand around with two thousand other mustangs in crowded conditions where
they can't avoid contact with each others' streaming pus.
Gross? Yes, and maybe that's why BLM is not only closing Indian Lakes to visitors on Easter Sunday, but director Don Glenn has refused to schedule a make-up day.
Secrecy leads to suspicion, and since day 1 of the Calico round up, it's been justified.
If BLM won't take even basic precautions -- like putting infected horses in hospital pens -- could it be because they want an excuse NOT to free them back to their home range? Or is it just too much trouble?
Best,
Terri
More info on Pigeon Fever from Colorado State veterinarians:

Clinical signs:
Early signs can include lameness, fever, lethargy, depression and weight loss.
Infections can range from mild, small, localized abscesses to a severe disease with multiple massive abscesses containing liters of liquid, tan-colored pus.
External, deep abscesses, swelling and multiple sores develop along the chest, midline and groin area, and, occasionally, on the back.
Incubation period: Horses may become infected but not develop abscesses for weeks.
Animals affected:The disease usually manifests in younger horses, but can occur in any age, sex, and breed.
A different biotype of the organism is responsible for a chronic contagious disease of sheet and goats, Caseous lymphadenitis, or CL. Either biotype can occur in cattle.

Disease forms:
Generally 3 types: external abscesses, internal abscesses or limb infection (ulcerative lymphangitis).
The ulcerative lymphangitis is the most common form worldwide and rarely involves more than one leg at a time. Usually, multiple small, draining sores develop above the fetlock.
The most common form of the disease in the United States is external abscessation, which often form deep in the muscles and can be very large. Usually they appear in the pectoral region, the ventral abdomen and the groin area. After spontaneous rupture, or lancing, the wound will exude liquid, light tan-colored, malodorous pus.
Internal abscesses can occur and are very difficult to treat
.

Treatment:
Hot packs or poultices should be applied to abscesses to encourage opening. Open abscesses should be drained and regularly flushed with saline.
Surgical or deep lancing may be required, depending on the depth of the abscess or the thickness of the capsule, and should be done by your veterinarian.
Ultrasound can aid in locating deep abscesses so that drainage can be accomplished.
External abscesses can be cleaned with a 0.1 percent povidone-iodine solution
Antiseptic soaked gauze may be packed into the open wound
A nonsteroidal anti-inflammatory drug such as phenylbutazone can be used to control swelling and pain
Care required:
Buckets or other containers should be used to collect pus from draining abscesses and this infectious material should be disposed of properly.
Consistent and careful disposal of infected bedding, hay, straw or other material used in the stall is vitally important.
Thoroughly clean and disinfect stalls, paddocks, all utensils and tack.
Pest control for insects is also very important.
Recovery time: Usually anywhere from two weeks to 77 days.
Labels: BLM, Craig Downer, Don Glenn, Fallon, Fallon facility, Indian Lakes, Pgeon Fever, terri farley
Permalink to this blog post
Posted by Terri Farley @ 3:01 PM
5 comments
---
Wednesday, March 31, 2010
Let 'em Run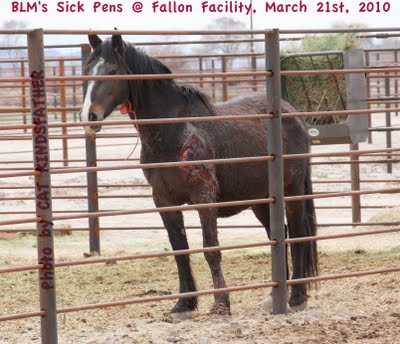 Dear Readers,
The captive wild horse above is the reason that I've barely talked with you since biologist Craig Downer and I returned from BLM's Fallon corrals, Sunday, then searched out remnants of the wild herds of the Calico range on Monday.
Every spare hour since then, we've worked toward this:
FEDERAL LAWSUIT AGAINST WILD HORSE ROUNDUP SEEKS RETURN OF 1800 HORSES TO NEVADA RANGE
When photographer Cat Kindsfather enlarged this photo, she realized that the seepage from this mustang's awful wound had pulsed all the way down to his hoof.
This callous cruelty cannot be allowed to continue.
Terri
Labels: BLM, Craig Downer, Fallon, lawsuit, mustangs, terri farley, wild horse deaths, wild horse injuries, wild horses
Permalink to this blog post
Posted by Terri Farley @ 10:26 AM
3 comments
---
Saturday, January 16, 2010
Calico Horses on the run
It was a bittersweet day on the Calico range. The sage smelled spicy-clean and the mountains soared to meet the skies, but never, all day, was there silence.
Wildlife trails have been graded into roads for huge trailer trucks and the incessant beat of helicopter blades sliced through me.
People who think horse lovers anthropomorphize these animals should have been there today. These creatures have strong family bonds.
>Stallions battle minutes after they were forced from thousands of acres into tiny corrals.
BLM staffer

: They're just fighting because they're crowded.
No, they're doing what they know; protecting a few square feet of ground and their families.
>Mares and foals are separated, able to see each other, but crying back and forth, wondering why they can't nuzzle or touch.
BLM staffer: They're a poor looking bunch.
>Hills resound as horse flesh slams metal corral bars and then, from a ridge, a black horse moves stiffly and calls to his family. They call over and over again, but the black hesitates.

BLM staffer: Don't worry, they'll get him in the next load.
Not
band
, not
herd
, or even bunch, but these wild creatures are named by the way they're transported away from home. And there's no attempt at understanding the confusion of this horse who's always know safety is with the herd, until today.
I'll tell you what, though, you all: I am more fired up than ever to fight for these horses.
This can't be allowed to go on.
Pictures soon.
Terri
Labels: BLM, Calico Complex, round up, terri farley, wild horses
Permalink to this blog post
Posted by Terri Farley @ 10:47 PM
4 comments
---
Sunday, January 10, 2010
Phantom Stallion/Wild Horse Island Trivia quiz
Dear Readers,
I know I was supposed to post the answers to these questions on Jan. 5, but since I'm already later, I thought I'd give you a chance to post your answers before I do mine!
Best,
Terri
1. Which River Bend cowboy writes poetry?
2. Which Hawaiian treasure must be returned to a royal burial cave?
3. The Phantom's full sister is Hoku. Was she born in Nevada or Hawaii?
4. What is the name of the Phantom's mother?
5. Is Black Lava a stallion or mare?
6. Does Darby see her first wild horse in Nevada or Hawaii?
7. Which River Bend cowboy carved a wooden mustang for Sam?
8. The foal of Dark Sunshine and the Phantom is _____________________.
9. Blue Wings was a gift to Wyatt Forster from ______________________.
10. In the Wild Horse Island series, which comes first, the tsunami or the volcanic erruption?
11. The Phantom has had several lead mares. Name two.
12. Sam's baby brother is named _____________________.
13. This draft horse predicted an earthquake and has a talent for jumping.
14.Name one palomino that is part of the Kenworthy's Fire and Ice breeding program
15. Who is Jen's sort-of boyfriend?
16. Who is the first one of Sams friends to see Tempest?
Extra credit: Guess which of my characters this girl inspired?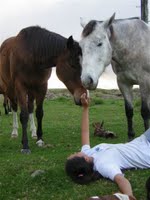 Labels: Black Lava, horse trivia quiz, phantom stallion, terri farley, wild horse island
Permalink to this blog post
Posted by Terri Farley @ 6:28 PM
4 comments
---
Monday, January 04, 2010
A STALLION NAMED FREEDOM loses everything else

Pursued by a helicopter, Freedom's herd heads toward a trap
Update From The Field
By Craig C. Downer, Wildlife Ecologist
and Elyse Gardner, Public Observer
January 2, 2009
Below are the photos of the roundup that took place today (Saturday, January 2, 2009) showing how the captured band stallion, "Freedom," valiantly fought for and regained his liberty although he had to leave his family of 8 adult mares and 2 colts. Jumping a 6-foot fence and immediately thereafter breaking through a barbed wire fence and injuring himself, this was an awe-inspiring, do-or-die effort demonstrating the loathing of captivity to a wild horse and his need for freedom. We can only pray for his recovery from the injuries the sustained from the barbed wire.
FOR THE COMPLETE STORY, VISIT:
http://humanitythrougheducation.com/
Additional Note: On New Year's Day, the BLM rounded up 10 wild horses but only captured 9 because a 6-month old foal died en route. APHIS vet at the scene, Dr. Al Kane, reported that after being chased by the helicopter for "1/4 mile" the little foal was behaving strangely, lying down periodically. It is reported that the pilot radioed Dr. Kane that this foal was having problems and Dr. Kane went out to see the foal who was found dead. Dr. Kane said that he did a necropsy in the field and discovered congenital heart defect and said that foal couldn't have handled any exercise and probably wouldn't have lived to adulthood. They left the body in the field and refused to allow the public observers to witness the body.
Labels: BLM lawsuit, Craig Downer, Elyse Gardner, Freedom, round ups, stallion escapes, terri farley, wild horses
Permalink to this blog post
Posted by Terri Farley @ 8:02 AM
5 comments
---
Wednesday, December 30, 2009
"Dances with Wolves" and "Phantom Stallion" Authors Speak Out Wild Horse Roundups
Dear Readers,
The meeting with Senator Feinstein's office was great. The rally was busy and featured a formerly wild burro, a miniature horse named Fergie and a huge Mastiff dog as big as either of them!
Keep your eyes open for press reports ; I talked with lots of reporters.
Photos as I get them!
Here's what else happened...

San Francisco, CA (December 30, 2009)—In a special press conference Michael Blake, Academy Award-winning author of Dances with Wolves and Terri Farley, author of the popular Phantom Stallion book series join together at 5 P.M. in the Rex Roth Room at Hotel Rex, 562 Sutter Street in San Francisco to protest the dead-of-winter roundups of wild horses on Nevada's Calico Range. The two authors want the American public to hear their stories and stand up for the wild horses and burros before they exist only in books. They ask the public to write President Obama requesting a moratorium on wild horse and burro roundups until the American public can work with Congress to create a sustainable plan to protect our legends of the West.
Less than one percent of humans who live in America have ever seen wild horses running free according to Blake, "I have spoken with many of the few who have and each has said the view they made will never be forgotten."
The Nevada roundups have special meaning to Blake, whose new book, Twelve, the King, is a tribute to the wild stallion he adopted. Blake explains, "After surviving a brutal capture in Nevada, he never had anything put on his back and was given all-access to the ranch."
Farley will speak on the importance of wild horses to modern children, of the Bureau of Land Management's lopsided science, and share eye-witness accounts of riding the Calico range. A land of sagebrush, pinion pines and snow-capped peaks, the range is not only the setting for her popular Phantom Stallion series, but the site of multi-million dollar roundup in progress because the BLM insists the horses have damaged the range.
"BLM must cowboy up and make the corporate ranchers pay for the damage their livestock has done to the range," Farley said. "Nevada is wild horse country, and you only have to look at the galloping mustangs Nevadans voted onto their state quarter and mustang license plates to see that most of us want it to stay that way."
Farley and her fans fear that if BLM continues roundups like Calico, where they are removing 80-90% of the mustangs to add to the thousands already in captivity, that the days of free-roaming horses will end.
"The last truly wild horse may already have been born," Farley says. "Though Secretary of the Interior Ken Salazar claims moving wild horses to Eastern and Midwestern pastures will preserve them forever, these sterilized and shelved horses are treated more like strawberry preserves than a living legacy of the West."
Blake's Dances with Wolves praises the gritty beauty of the real old West just as his upcoming On the Road with Michael Blake takes an honest and admiring look at today's West, and he agrees that the West's wild horses must be left to run free.
"As remarkable as a distant sight of wild horses can be it remains the tip of a glorious iceberg. The actual lives of wild horses reveal to humanity the privilege having a life on the planet earth and how vital it is to respect the privilege."
—Michael Blake
"Since humans first huddled around campfires, stories have been told of wild horses with wind in their manes, fire in their eyes and freedom in their hearts. Those horses eluded capture, and scorned the comforts of civilization. Americans have insisted they want their wild horses to live that way, forever."
—Terri Farley
# # #
Labels: BLM rount up, Diane Feinstein, Michael Blake, terri farley, wild horses
Permalink to this blog post
Posted by Terri Farley @ 11:33 PM
1 comments
---
Tuesday, December 29, 2009
Keeping Wild Horses Wild -- in San Francisco?
TOMMOROW in San Francisco, Chicago, London, Los Angeles and Idaho, peaceful demonstrations against the round ups of wild horses are planned.
If you can come to one of these peaceful demonstrations, please do!
And yes, I'll be in San Francisco. As a fourth-generation Californian who had her first real job in San Francisco, I've always admired the open-hearted and open-minded city and it is, after all, named after Saint Francis, patron saint of animals and the environment.
If you come to the rally in San Francisco, please come up and talk with me! Our password will be the Phantom's secret name. That will tell me you're one of my readers!
For more information on the wild horse rallies, check out
The Cloud Foundation
Labels: protest, round ups, Saint Francis, San Francisco, terri farley, wild horses
Permalink to this blog post
Posted by Terri Farley @ 7:29 PM
1 comments
---
Wednesday, December 23, 2009
Press Release on Nevada Wild Horse Killings
For Immediate Release
Naturalist Filmmaker Ginger Kathrens along with Authors Deanne Stillman and Terri Farley Release Statements about the Nevada Wild Horse Killings and BLM's Reward
1971 Wild Horse and Burro Protection Act Must Be Upheld
Reno, NV (December 22, 2009)—The Cloud Foundation along with authors Deanne Stillman and Terri Farley release statements to the press about the killing of six American wild horses in Washoe County, NV discovered during the recent unannounced Buckhorn roundup during the first week in December. These concerned citizens comment on the Bureau of Land Management's (BLM) responsibilities to protect American wild horses as well as their recent $10,000 reward for information leading to the arrest and conviction of the killers.
"I am heartened that Director Abbey is offering this large reward. Wild horses and burros are valuable members of our western ecosystems and whoever committed these crimes should be brought to justice." —Ginger Kathrens, Naturalist and Emmy-award winning filmmaker- creator of the popular PBS Cloud Wild Horse Documentaries
"I'm saddened by the mustangs' deaths and hope BLM stands up for our remaining mustangs in the wild" —Terri Farley, author of the "Phantom Stallion" wild horse series
"These killings have been going on for decades and are all about our ongoing war against the mustang. The question we must ask ourselves as Americans is this: why are we, a cowboy nation, destroying the horse we rode in on? Now, in this holiday season, the question is more urgent than ever, as we recall the 34 wild horses that were gunned down outside Reno at Christmas of 1998 and once again, mourn the martyrdom of yet more mustangs in their homeland—the West." —Deanne Stillman, author of "Mustang: The Saga of the Wild Horse in the American West"
Labels: BLM reward, Cloud, Deanne Stillman, Ginger Kathrens, mustang, Nevada, phantom stallion, terri farley, Wild horse killings
Permalink to this blog post
Posted by Terri Farley @ 8:43 AM
0 comments
---
Tuesday, December 22, 2009
Missing Books
Dear Readers,
If you are desperate to read one of my books and can't find it, don't forget that almost all of my titles are on Kindle.
Good to know?
Terri
Labels: children's books, horse books, phantom stallion, terri farley
Permalink to this blog post
Posted by Terri Farley @ 2:16 PM
0 comments
---
Saturday, December 12, 2009
Stealth Round-Up during BLM Meeting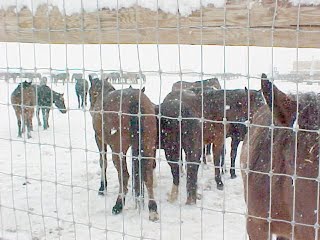 Huddled horses in BLM corrals were rounded-up while I was in the Monday meeting; now they have no shelter, no windbreaks
Dear Readers,
On Monday,
>BLM said the ratio of livestock to horses is: 8,000,000,000 / 30 000 but still blamed wild horses for range damage
>BLM brushed aside communications from Americans who want mustangs to run free. Saying people are ill-informed, BLM insists entrapment,capture and confinement best serve the wild horses
>BLM wild horse advisory board would not agree to read even a few of your letters
>While a snowstorm raged outside, during the hours BLM insisted the public and humane observers were always welcome to watch gathers, BLM had helicopters in the air, making a stealth round up of horses slated for capture in August 2010.
At least one mare was killed and other horses, including a number of foals, were injured.
Right this minute, those horses stand in corrals -- as shown above -- without shelter or even windbreaks.
Brynna, one of my favorite PHANTOM STALLION characters, was a BLM staffer, and I've dedicated books to real BLM staffers, but the Bureau is running amok and using my money to do it. Even if their actions are technically legal, they are sneaky and shady.
So, I'm now a plaintiff in a lawsuit to stop the BLM's roundup of the Calico horses.
On Wednesday, I'll be sitting in a Washington, D.C. court room listening as BLM and Safari Club International fight for the capture and transport of wild horses to "preserves" where they]ll live in "non-reproducing herds." That means there will be no foals.
Soon enough, they'll be "preserving" nothing; they will be empty.
Yes, life is tough for America's wild horses, but you're standing up for them and I'm standing up for them and you.
More later,
Terri
Labels: BLM, mustang, phantom stallion, Safari Club, terri farley, wild horses
Permalink to this blog post
Posted by Terri Farley @ 7:58 PM
5 comments
---
Tuesday, December 08, 2009
A guest blogger???
Hi everybody,
This is Matt, Terri's son. My mom's busy battling the BLM right now, but I wanted to make sure everyone got a chance to read the
article
The Associated Press did about the government's plan to round up 25,000 wild horses and ship them off to uncertain fates in the East and Midwest.
I'm not nearly as much of a horse person as my mom is, but earlier this year, she and I took a bunch of writers and publishing people to check out a herd of wild horses in the desert near Dayton, Nevada. I was a lot more excited about going off-roading and hanging out with some of the young female writers than I was about actually seeing the animals (because, let's be honest, when Terri Farley's your mom, you see a
lot
of horses (-: ), but either way, it seemed like a good way to spend a Sunday morning.
If you haven't seen wild horses before, it's tough to explain why it was so cool to walk among them. As I mentioned, I've been around plenty of livestock and am not much impressed by most of it, but wild horses are about as close to the ponies at the fair as a red fox is to your wiener dog. Up close, they seem to be about 80 percent horse and 20 percent woolly mammoth. Their caveman dreadlocks alone are worth the trip.
We all walked right up near them (they'll let you know if you get too close, believe me) and just watched for a while. The New York publishing folks' minds were blown, and I wasn't far from joining them. You think of creatures like as being pretend, or so foreign that they might as well be, like Bengal tigers or monitor lizards. But no, they just hang out in the West's deserts, and unlike tigers, they don't bother anybody. At worst, they run away if you're bugging them. You can (and should) go see them sometime, assuming they're still around.
That sounds overly dramatic, but it isn't, really. If the BLM's plan goes through as written, the wild horses will be precious few and far between. I can't get into the facts and figures the way my mom does, but I was a reporter for five years, and I can share a couple of things that might help you make your mind up about the BLM's plan:
1.
It will be a difficult and expensive project that will result in the deaths of at least some of the horses. That's all par for the course when forcing wild animals to do things.
2.
It is not clear how the horses will adapt to their new homes, nor that they won't have to be moved again at some point.
3.
There is little if any actual, independent evidence that the wild horses need to be relocated at all, at least for the reasons the BLM has put forth (overpopulation and starvation). The BLM hasn't kept proper track of the horses for years due to budget concerns, and yet they claim to know exactly how much the horses are eating and how fast they're breeding? As a reporter, I'm going to have to say:
Citation needed.
A full study would, one assumes, cost a lot less than hunting and trapping 25,000 animals and shipping them across the country. Maybe we ought to give that a try first.
Anyway, here's the link if you missed it the first time: http://www.nytimes.com/aponline/2009/12/08/us/AP-US-Wild-Horses.html?pagewanted=all . Please link to this page and encourage your local reporter or blogger to investigate this story and how it applies to you. And most of all, if you oppose the BLM's plan, act NOW in real life. Don't know how? Just ask Terri.
Thanks for reading,
Matt
Labels: mustang, Nevada, phantom stallion, terri farley, wild horses, young adult
Permalink to this blog post
Posted by Terri Farley @ 8:41 PM
7 comments
---