Friday, April 16, 2010
Your Friday, their Friday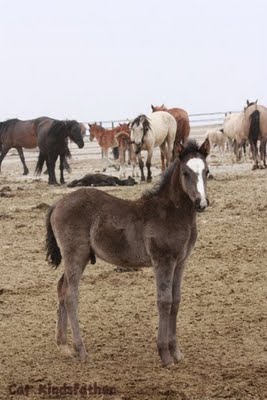 This update comes from BLM staff at the Fallon facility. It includes the news that mares are actively foaling, but BLM doesn't keep track of how many are born.
In the wild, foals' ears would open to birdsong, the thump of rabbit paws, the comforting nickers and chewing of their families. Here, their first sounds are mixed with the screams of young stallions in terrified pain.

Friday,
April 16
Most stallions and weaned colts are doing well and gaining weight. Mares from Black Rock East, Black Rock West and most Granite horses continue to do well. Mares from Warm Springs and Calico are improving. Mares that have been isolated for poor condition are gaining weight. No miscarriages occurred. Mares are actively foaling and new foals are born daily. Work to geld horses four years and younger began today.

Facility Death: 0 Cumulative Death total: 79
Permalink to this blog post
Posted by Terri Farley @ 10:13 AM
---
Comments:
Terri , I think this sweetie is so adorable. Very happy to see him on your blog site. They wouldn't geld such a young baby would they?? I can't bear to think that he may loose this part of himself. He is so beautiful....
No one in his right mind would geld such a little guy. My (limited) experience says over six months, or when both testicles are descended or there can be horrible consequences. Life-threatening, I'd say, for horses kept in such feedlot conditions, because the complications might not be noticed and follow-up care is expensive and time consuming.
Vaquerogirl, please fact check me on this?
Thanks!
Hi Terri;
surely you are not saying this young fella' standting there will be gelded ? that is awful; way too young; I am in the process of contacting an outside Veteranarian;
and sending him the HSUS report about Sanford's plans to geld...
I don't think Sanford knows much !
I don't even think Sanford is qualified; 79 Mustngs have perished under Sanford's watch...
what a poor record for a Vet. ! Boo
ps keep us updated on the geldings!
to the mustang; be brave dearhearts