Saturday, April 03, 2010
Phantom foals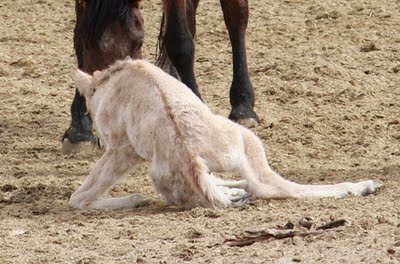 photo used by permission of Cat Kindsfather

Three things to think about:
1)
Newborn horses like the dun foal above
-- trying to rise and nurse despite a broken leg suffered in a corral crowded with adult horses --
do not exist in the world of BLM
until they are branded.
2) Only one vet is under contract to care for the thousands of mustangs in BOTH the Fallon and Palomino Valley facilities.
3) Despite promises to welcome the public at wild horse gathers and holding pens, program manager Don Glenn allows NO humane observers at the wild horse facilities except "by appointment"
If you object, please sign this petition to President Obama, asking for
an immediate moratorium on wild horse roundups
Labels: BLM, Don Glenn, Indian Lakes, mustangs, Palomino Valley, phantom foals, pigeon fever, terri farley, wild horse deaths, wild horses
Permalink to this blog post
Posted by Terri Farley @ 2:00 AM
7 comments
---
Wednesday, March 31, 2010
Let 'em Run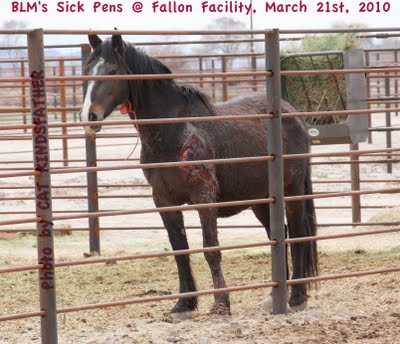 Dear Readers,
The captive wild horse above is the reason that I've barely talked with you since biologist Craig Downer and I returned from BLM's Fallon corrals, Sunday, then searched out remnants of the wild herds of the Calico range on Monday.
Every spare hour since then, we've worked toward this:
FEDERAL LAWSUIT AGAINST WILD HORSE ROUNDUP SEEKS RETURN OF 1800 HORSES TO NEVADA RANGE
When photographer Cat Kindsfather enlarged this photo, she realized that the seepage from this mustang's awful wound had pulsed all the way down to his hoof.
This callous cruelty cannot be allowed to continue.
Terri
Labels: BLM, Craig Downer, Fallon, lawsuit, mustangs, terri farley, wild horse deaths, wild horse injuries, wild horses
Permalink to this blog post
Posted by Terri Farley @ 10:26 AM
3 comments
---
Friday, March 26, 2010
Fallon Foal Death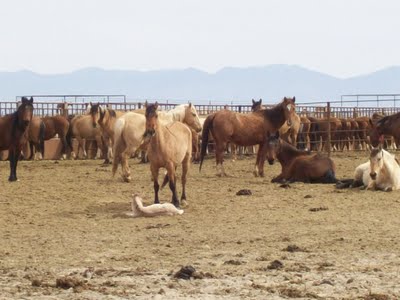 Mare stands guard over new foal, photo by Tara Kain
There's a new set of hooves in Heaven.
BLM's death tally for the week doesn't show what happened.
However, visitors are allowed to tour the tax payer funded Indian Lakes wild horse facility. It's land-locked inside a private ranch in Fallon, Nevada, but opened once each week by reservation only for two hours.
Three observers from the CalNeva Cloud Foundation and photographer Cat, visited Sunday, March 21 and took photos, video and notes.
Saturday, March 20
a pale dun foal is born to a buckskin mare

Sunday, March 21
11:00 Members of the public arrive to tour the Fallon facility. Director John Neill is their guide and he waits for a late arrival
11:37 tour begins
11:45 visitors observe buckskin mare and newborn foal in a pen with other adult horses. Foal looks like "he had melted into the contours of the ground" according to one observer and Mr. Neill said the foal was a weak newborn from the night before.
12:30? Sometime during the tour, members of the public notice a nursery pen with just six mare and foal pairs inside and wonder why the buckskin and her foal aren't with them*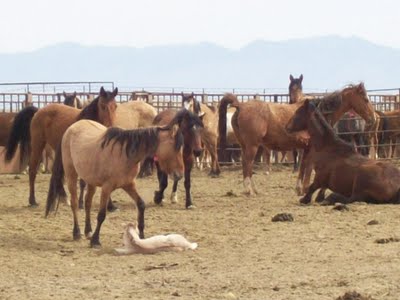 (RIGHT: As adult horses move, mare makes a protective barricade of her body, photo by Tara Kain)
1:45 Tour ends, passing by the buckskin mare and her foal. Mr. Neill agreed with visitors that foal might be sick and indicated he would check on it. If necessary, a vet would be called. He added that volunteers from WHOA might be asked to bottle feed the foal if it couldn't rise to nurse.
2:00 as observers depart, foal is still down.
Monday, March 22
no deaths are listed on the BLM's facility update, so CalNeva Cloud observers hope for the best

Tuesday, March 23
9:55 am
Still no deaths listed for the weekend**, but one observer calls and talks to John Neill who says "the colt was euthanized." She understands Neill to say the vet had determined the colt had a broken femur and must have been kicked.
The caller commented, "Oh, that's why he never got up."
Neill replied, "No, he was up that morning nursing." Sometime after that, he speculated, the colt must've been kicked."
Neill said the foal was destroyed via chemical injection.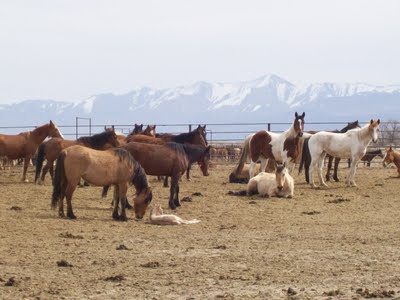 (with freedom tantalizingly close, mare urges foal to rise and nurse, photo by Tara Kain)

Friday, March 26
I reached John Neill at Palomino Valley wild horse corrals and he answered my questions about the Medicine Hat stallion I've told you about before and this foal.
He clarified two points from the timeline above:
* "Once we know the colt's strong, we put them in the nursery pen" along with their mothers
**
Live births are not entered into BLM's system until horses have been freeze-branded, which takes place after four or more months.
Since foals delivered "in facility" are not listed as born, they are not listed as dead. So, they are not posted on BLM's online Calico Round-up updates.

John Neill described the last hour of the little dun's life.
"He was down during the tour. Afterward I went out to check on him and he was packing a right hind leg and he had to be put down."
"When did the vet come?" I asked.
"He didn't."
"Was it a compound fracture so that you could see it was broken?"
John answered, "I could just tell, so I took care of it."
After our call ended, my English teacher brain flashed to "I am cruel only to be kind." Hamlet, I remembered, and knew that if I were watching over a newborn foal with a fatally fractured femur, I would not want it to suffer.
But "Hamlet" ends with a stage strewn with corpses.
I tried to get confirmation that such a leg injury is easily diagnosed, but the two vets I consulted disagreed on both diagnosis and prognosis.
John Neill told me "We have births daily and if something happens like this or there's a bad mother, we can't track them all accurately."
Is it fair to the public that our mustang foals are born and die without notice?
This is not Neill's decision; it is BLM policy. As with so many other BLM policies, the numbering of lives and deaths are rough estimates.
That's wrong.
There are no disposable mustangs. Taxpayers have no disposable income, especially for a system they hate.
There must be a moratorium on the capture of our wild horses, before a ruined system erases an entire species.
Labels: BLM, Fallon, helicopter roundups, Indian Lakes, mustang, wild horse deaths, wild horses
Permalink to this blog post
Posted by Terri Farley @ 1:17 PM
4 comments
---
Tuesday, February 23, 2010
Mustangs in Misery
Dear Readers,
What did you do on Saturday? Did you have breakfast in your pjs? Hang out with your friends? Sleep in a warm house?
On Saturday, I talked with Senator Harry Reid about BLM's treatment of our wild horses.
Since then, at least six more wild horses have died at BLM's modern state of the art facility.
A two-year-old filly died after sustaining a serious spinal injury
A 10-year-old mare was found dead of "foaling complications." Her full-term foal was not properly positioned in the birth canal, and they both died.
A four-year-old filly was euthanized due to "poor condition"
A 25 year old stallion was put down due to poor condition
Two 20-year-old mares were put down because they never recovered from the stress of the capture
You can read the government account of all that's happened to the wild horses since they came into contact with BLM here:
Calico Horses
I warn you, it is not pretty.
It is also a sickening use of my tax dollars.
Wind and rain are predicted for Fallon, after snowstorms and still there's no shelter for the horses, only a few plywood panels on one side of the hospital pens.
Beset by thoughts about greed,
Terri
Labels: BLM, Fallon, mustangs, wild horse deaths
Permalink to this blog post
Posted by Terri Farley @ 6:27 PM
5 comments
---
Sunday, February 07, 2010
Killing colts as world watches makes BLM uneasy
A rest before dying/photo by Lora Leigh
Dear Readers,
Someone at BLM has realized we're watching, and we care.
After nearly 2000 beautiful horses were captured and injured, the Calico Complex round-up was halted.
Now, the Eagle territory round-up has been postponed:
Ely, Nevada – The Bureau of Land Management (BLM) has determined there is not adequate time to safely conduct the proposed Eagle Herd Management Area (HMA) gather prior to the beginning of foaling season, and therefore, will defer issuing a decision on the proposed gather until later this year after the foaling season.
We're having an impact.
Terri
Labels: BLM, Calico, Eagle Herd Management, foals die, wild horse deaths, wild horses
Permalink to this blog post
Posted by Terri Farley @ 4:08 PM
7 comments
---