Thursday, April 08, 2010
May I borrow your brains and flying fingers?
Dear Readers,
Just like Brenda Starr, the comic book girl reporter first published in the 1940's, I need some
newsy tidbits
!
Have you ever seen articles -- online, in newspapers, magazines -- about me or the PHANTOM STALLION, WILD HORSE ISLAND, SEVEN TEARS INTO THE SEA or my horsey activities which you think I should share?
As you might've guessed, I'm putting big dollops of my time into helping the horses, but it's really time for me to update my press kit (which is something journalists and book publishers look at to see who I am and what I'm up to), and many of you have been keeping up better than I have.
I'm especially interested in articles published in other countries.
Any help would be wonderful and you can email me links at
[email protected]
Thanks SO much!
Terri
Labels: phantom stallion, seven tears into the sea, terri farley, wild horse advocate, wild horse island
Permalink to this blog post
Posted by Terri Farley @ 4:57 PM
0 comments
---
Sunday, January 10, 2010
Phantom Stallion/Wild Horse Island Trivia quiz
Dear Readers,
I know I was supposed to post the answers to these questions on Jan. 5, but since I'm already later, I thought I'd give you a chance to post your answers before I do mine!
Best,
Terri
1. Which River Bend cowboy writes poetry?
2. Which Hawaiian treasure must be returned to a royal burial cave?
3. The Phantom's full sister is Hoku. Was she born in Nevada or Hawaii?
4. What is the name of the Phantom's mother?
5. Is Black Lava a stallion or mare?
6. Does Darby see her first wild horse in Nevada or Hawaii?
7. Which River Bend cowboy carved a wooden mustang for Sam?
8. The foal of Dark Sunshine and the Phantom is _____________________.
9. Blue Wings was a gift to Wyatt Forster from ______________________.
10. In the Wild Horse Island series, which comes first, the tsunami or the volcanic erruption?
11. The Phantom has had several lead mares. Name two.
12. Sam's baby brother is named _____________________.
13. This draft horse predicted an earthquake and has a talent for jumping.
14.Name one palomino that is part of the Kenworthy's Fire and Ice breeding program
15. Who is Jen's sort-of boyfriend?
16. Who is the first one of Sams friends to see Tempest?
Extra credit: Guess which of my characters this girl inspired?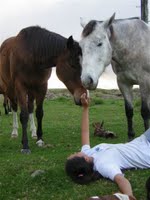 Labels: Black Lava, horse trivia quiz, phantom stallion, terri farley, wild horse island
Permalink to this blog post
Posted by Terri Farley @ 6:28 PM
4 comments
---