Sunday, April 18, 2010
The Real Phantom Stallion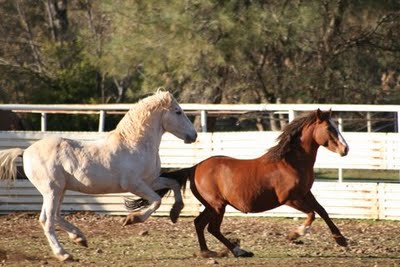 Dear Readers,
I hope you enjoy this photo of the real Phantom and his lead mare Shy, shortly before Phantom's Pride was born.
If you haven't seen the Phantom's YouTube video, you might enjoy it here:
Mustang as Muse: the real Phantom Stallion
Happy trails,
Terri
Labels: Mustang as Muse, phantom stallion, Phantom stallion series, YouTube
Permalink to this blog post
Posted by Terri Farley @ 9:28 AM
2 comments
---
Thursday, April 08, 2010
May I borrow your brains and flying fingers?
Dear Readers,
Just like Brenda Starr, the comic book girl reporter first published in the 1940's, I need some
newsy tidbits
!
Have you ever seen articles -- online, in newspapers, magazines -- about me or the PHANTOM STALLION, WILD HORSE ISLAND, SEVEN TEARS INTO THE SEA or my horsey activities which you think I should share?
As you might've guessed, I'm putting big dollops of my time into helping the horses, but it's really time for me to update my press kit (which is something journalists and book publishers look at to see who I am and what I'm up to), and many of you have been keeping up better than I have.
I'm especially interested in articles published in other countries.
Any help would be wonderful and you can email me links at
[email protected]
Thanks SO much!
Terri
Labels: phantom stallion, seven tears into the sea, terri farley, wild horse advocate, wild horse island
Permalink to this blog post
Posted by Terri Farley @ 4:57 PM
0 comments
---
Tuesday, March 09, 2010
The BEST People !
HI all,
You might like to visit this Facebook page & chat
People who love the Phantom Stallion
Enjoy!
Terri
Labels: children's books, phantom stallion, readers
Permalink to this blog post
Posted by Terri Farley @ 11:21 PM
1 comments
---
Saturday, February 20, 2010
Saving a Stallion
photo by Mark Terrell
Wild Horses of Nevada
Dear Readers,
I'm in love with this horse, a Medicine Hat stallion, captive at BLM's Fallon corrals.
Although I have very mixed feelings about naming wild horses, in my imagination he has a name. And a story. During the last two days I've been writing it. I can't seem to stop.
I hope to keep track of him and see that he's set free in the spring.
Do you know any stories about Medicine Hat horses? Please respond to this blog post if you do, and we can share what you know with other readers.
Best to you,
Terri
Labels: BLM, Eagle Lakes, Fallon, Medicine Hat, mustang, phantom stallion, wild horses
Permalink to this blog post
Posted by Terri Farley @ 10:25 AM
8 comments
---
Sunday, January 10, 2010
Phantom Stallion/Wild Horse Island Trivia quiz
Dear Readers,
I know I was supposed to post the answers to these questions on Jan. 5, but since I'm already later, I thought I'd give you a chance to post your answers before I do mine!
Best,
Terri
1. Which River Bend cowboy writes poetry?
2. Which Hawaiian treasure must be returned to a royal burial cave?
3. The Phantom's full sister is Hoku. Was she born in Nevada or Hawaii?
4. What is the name of the Phantom's mother?
5. Is Black Lava a stallion or mare?
6. Does Darby see her first wild horse in Nevada or Hawaii?
7. Which River Bend cowboy carved a wooden mustang for Sam?
8. The foal of Dark Sunshine and the Phantom is _____________________.
9. Blue Wings was a gift to Wyatt Forster from ______________________.
10. In the Wild Horse Island series, which comes first, the tsunami or the volcanic erruption?
11. The Phantom has had several lead mares. Name two.
12. Sam's baby brother is named _____________________.
13. This draft horse predicted an earthquake and has a talent for jumping.
14.Name one palomino that is part of the Kenworthy's Fire and Ice breeding program
15. Who is Jen's sort-of boyfriend?
16. Who is the first one of Sams friends to see Tempest?
Extra credit: Guess which of my characters this girl inspired?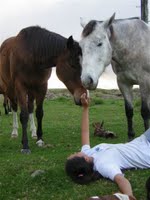 Labels: Black Lava, horse trivia quiz, phantom stallion, terri farley, wild horse island
Permalink to this blog post
Posted by Terri Farley @ 6:28 PM
4 comments
---
Wednesday, December 23, 2009
Press Release on Nevada Wild Horse Killings
For Immediate Release
Naturalist Filmmaker Ginger Kathrens along with Authors Deanne Stillman and Terri Farley Release Statements about the Nevada Wild Horse Killings and BLM's Reward
1971 Wild Horse and Burro Protection Act Must Be Upheld
Reno, NV (December 22, 2009)—The Cloud Foundation along with authors Deanne Stillman and Terri Farley release statements to the press about the killing of six American wild horses in Washoe County, NV discovered during the recent unannounced Buckhorn roundup during the first week in December. These concerned citizens comment on the Bureau of Land Management's (BLM) responsibilities to protect American wild horses as well as their recent $10,000 reward for information leading to the arrest and conviction of the killers.
"I am heartened that Director Abbey is offering this large reward. Wild horses and burros are valuable members of our western ecosystems and whoever committed these crimes should be brought to justice." —Ginger Kathrens, Naturalist and Emmy-award winning filmmaker- creator of the popular PBS Cloud Wild Horse Documentaries
"I'm saddened by the mustangs' deaths and hope BLM stands up for our remaining mustangs in the wild" —Terri Farley, author of the "Phantom Stallion" wild horse series
"These killings have been going on for decades and are all about our ongoing war against the mustang. The question we must ask ourselves as Americans is this: why are we, a cowboy nation, destroying the horse we rode in on? Now, in this holiday season, the question is more urgent than ever, as we recall the 34 wild horses that were gunned down outside Reno at Christmas of 1998 and once again, mourn the martyrdom of yet more mustangs in their homeland—the West." —Deanne Stillman, author of "Mustang: The Saga of the Wild Horse in the American West"
Labels: BLM reward, Cloud, Deanne Stillman, Ginger Kathrens, mustang, Nevada, phantom stallion, terri farley, Wild horse killings
Permalink to this blog post
Posted by Terri Farley @ 8:43 AM
0 comments
---
Tuesday, December 22, 2009
Missing Books
Dear Readers,
If you are desperate to read one of my books and can't find it, don't forget that almost all of my titles are on Kindle.
Good to know?
Terri
Labels: children's books, horse books, phantom stallion, terri farley
Permalink to this blog post
Posted by Terri Farley @ 2:16 PM
0 comments
---
Saturday, December 12, 2009
Stealth Round-Up during BLM Meeting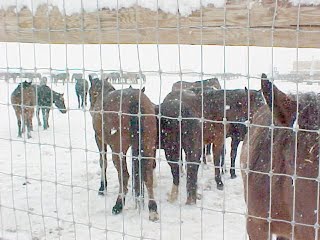 Huddled horses in BLM corrals were rounded-up while I was in the Monday meeting; now they have no shelter, no windbreaks
Dear Readers,
On Monday,
>BLM said the ratio of livestock to horses is: 8,000,000,000 / 30 000 but still blamed wild horses for range damage
>BLM brushed aside communications from Americans who want mustangs to run free. Saying people are ill-informed, BLM insists entrapment,capture and confinement best serve the wild horses
>BLM wild horse advisory board would not agree to read even a few of your letters
>While a snowstorm raged outside, during the hours BLM insisted the public and humane observers were always welcome to watch gathers, BLM had helicopters in the air, making a stealth round up of horses slated for capture in August 2010.
At least one mare was killed and other horses, including a number of foals, were injured.
Right this minute, those horses stand in corrals -- as shown above -- without shelter or even windbreaks.
Brynna, one of my favorite PHANTOM STALLION characters, was a BLM staffer, and I've dedicated books to real BLM staffers, but the Bureau is running amok and using my money to do it. Even if their actions are technically legal, they are sneaky and shady.
So, I'm now a plaintiff in a lawsuit to stop the BLM's roundup of the Calico horses.
On Wednesday, I'll be sitting in a Washington, D.C. court room listening as BLM and Safari Club International fight for the capture and transport of wild horses to "preserves" where they]ll live in "non-reproducing herds." That means there will be no foals.
Soon enough, they'll be "preserving" nothing; they will be empty.
Yes, life is tough for America's wild horses, but you're standing up for them and I'm standing up for them and you.
More later,
Terri
Labels: BLM, mustang, phantom stallion, Safari Club, terri farley, wild horses
Permalink to this blog post
Posted by Terri Farley @ 7:58 PM
5 comments
---
Tuesday, December 08, 2009
A guest blogger???
Hi everybody,
This is Matt, Terri's son. My mom's busy battling the BLM right now, but I wanted to make sure everyone got a chance to read the
article
The Associated Press did about the government's plan to round up 25,000 wild horses and ship them off to uncertain fates in the East and Midwest.
I'm not nearly as much of a horse person as my mom is, but earlier this year, she and I took a bunch of writers and publishing people to check out a herd of wild horses in the desert near Dayton, Nevada. I was a lot more excited about going off-roading and hanging out with some of the young female writers than I was about actually seeing the animals (because, let's be honest, when Terri Farley's your mom, you see a
lot
of horses (-: ), but either way, it seemed like a good way to spend a Sunday morning.
If you haven't seen wild horses before, it's tough to explain why it was so cool to walk among them. As I mentioned, I've been around plenty of livestock and am not much impressed by most of it, but wild horses are about as close to the ponies at the fair as a red fox is to your wiener dog. Up close, they seem to be about 80 percent horse and 20 percent woolly mammoth. Their caveman dreadlocks alone are worth the trip.
We all walked right up near them (they'll let you know if you get too close, believe me) and just watched for a while. The New York publishing folks' minds were blown, and I wasn't far from joining them. You think of creatures like as being pretend, or so foreign that they might as well be, like Bengal tigers or monitor lizards. But no, they just hang out in the West's deserts, and unlike tigers, they don't bother anybody. At worst, they run away if you're bugging them. You can (and should) go see them sometime, assuming they're still around.
That sounds overly dramatic, but it isn't, really. If the BLM's plan goes through as written, the wild horses will be precious few and far between. I can't get into the facts and figures the way my mom does, but I was a reporter for five years, and I can share a couple of things that might help you make your mind up about the BLM's plan:
1.
It will be a difficult and expensive project that will result in the deaths of at least some of the horses. That's all par for the course when forcing wild animals to do things.
2.
It is not clear how the horses will adapt to their new homes, nor that they won't have to be moved again at some point.
3.
There is little if any actual, independent evidence that the wild horses need to be relocated at all, at least for the reasons the BLM has put forth (overpopulation and starvation). The BLM hasn't kept proper track of the horses for years due to budget concerns, and yet they claim to know exactly how much the horses are eating and how fast they're breeding? As a reporter, I'm going to have to say:
Citation needed.
A full study would, one assumes, cost a lot less than hunting and trapping 25,000 animals and shipping them across the country. Maybe we ought to give that a try first.
Anyway, here's the link if you missed it the first time: http://www.nytimes.com/aponline/2009/12/08/us/AP-US-Wild-Horses.html?pagewanted=all . Please link to this page and encourage your local reporter or blogger to investigate this story and how it applies to you. And most of all, if you oppose the BLM's plan, act NOW in real life. Don't know how? Just ask Terri.
Thanks for reading,
Matt
Labels: mustang, Nevada, phantom stallion, terri farley, wild horses, young adult
Permalink to this blog post
Posted by Terri Farley @ 8:41 PM
7 comments
---