Thursday, June 30, 2005
Cutting 'Cots, Cutting Corners
HI,
Since I've only been a fulltime writer for a year or so, lots of readers want to know which jobs I had before. The most memorable ones were: fruit picker, waitress, secretary and teacher.
My favorite was teaching. Absolutely. I love kids, books and firmly believe anyone who's bored in a high school classroom just IS NOT paying attention to what's going on around her and lots of it has nothing to do with the lesson!
I'm sure a waitress character will work her way into one of my books. Why did I like the job? Hmmm...I guess it was fun because I created mini-friendships with people whose orders I took. I was a pretty hyper waitress -- talking, zipping around balancing orders, swinging back by tables to explain delays, swooping up dropped spoons, pouring coffee, fetching packets of crackers, making silly faces for babies...Work went fast and I earned good tips even though my feet ached by bedtime.
Cutting 'cots means slicing apricots in half. During high school, I lived in the midst of San Jose's orchards. Most of them have been ripped out to make way for malls, now, but then it was easy to get summer jobs picking plums or cutting cots. It was hot, sticky work, under leafy trees. The aroma of ripe fruit was delicious in the morning. By midday, it drew flies. I got paid for exactly what I did; a boss counted the wooden flats I'd covered with apricot halves. Sometimes I started adding up the dollars, calculating as I worked. I'd get greedy, my knife would flash too fast, I'd slice my thumb along with the fruit and draw blood.
I worked as a secretary at one job I loved (in San Francisco) and another I hated at the XYZ Company (uh huh, totally made up name). There, the money was great, the office air-conditioned & there was little chance to hurt myself. Physically. But XYZ was packed with salesmen willing to take advantage of people.
The "most successful" guy drove a Corvette, but his clients often called the office crying. Another guy specialized in cheating old people. He threw up each time he came back into the office. Guilt, I guess, but he didn't stop. The salesman who made the least listened to opera & coaxed me to give it a chance. It was WAY not my style, but I enjoyed the stories behind the music -- romance, adventure and suffering.
But they were stories and the do-anything-for-money attitude was real. I couldn't keep answering the phone all chirpy and cheery. I finally quit. It was bad timing with my rent and college tuition due. I managed to pay, then lived on noodles and green apples that month, happily.
My advice is to pick a job you love. I can't imagine how awful it would be to go to bed each night dreading the next morning! What a waste of a lifetime.
Terri
Permalink to this blog post
Posted by Terri Farley @ 8:40 AM
0 comments
---
Sunday, June 26, 2005
THREE MORE FAQs (and answers)
Q: HOW do you pronounce Brynnas name? I don't get it.
A: Even though Brynna is named after a real wild horse wrangler named Bryan, her name rhymes with GRIN-uh.
Q: WHEN YOU WRITE your books, how do you do it? If I want to write a book should I get all the information and plot together first or do you just start writing?
A: Do whatever feels most natural to you, because that's what successful writers do. I can give you a snapshot of my process, but yours may be totally different. For me, a book usually starts with a mental picture sort of like the preview of a movie. Sometimes that's the first scene, but it could be something in the middle or end of the book, too. Generally, I have no idea which book that will go in, but I've learned to write down the description on an idex card (or scrap of paper or restaurant napkin...kinda depends on when & where it hits me), and keep it. Once I have an idea of the sort of book I'm writing, I write down other scenes on other index cards and then, eventually, put them into order. All during the process, I collect books, Internet articles, magazine and newspaper clippings and file them so that I will have people (yes, I call the real people, especially if I'm writing an experience I've never had) to contact and more leads to follow. That grows from my backround as a journalist, and I hope it gives my work more texture.
To start, you might try writing what you KNOW. At one point early in my writing career, an editor wanted me to write about horses racing and though I love horses, I just don't know about that world and I have no feel for it. The range is different. I know and love it, so that's where I started.
Q: WHY DOES IT TAKE SO LONG? If you're working on book 21, how come book 20 isn't in the stores yet?
A: There are lots of people and processes involved in publishing a book and I don't even know half of them, but here's part of why it takes about a year for a book to go from my computer to your hands.
While I'm writing the book, I get an idea for the scene I'd like the artist to do on the cover. Next, I tell my editor in New York about it. She tells the art director and she contacts the artist and tells him (sometimes shows him photos I've sent, too) what to do. Then, he does a sketch of the horse. I check it out, make suggestions, and then he does a painting.
The publisher, HarperCollins does SOMETHING with computers and prints the painting on the cover while it is still flat, then binds the pages inside in a huge factory.
While all that is going on, they send copies of the pages back and forth to me so that we can look for errors, and all over the world, sales people who work for HarperCollins go to books stores and tell them about the new books and see if the stores want to order them for their customers.
Thanks for asking,
Terri
Permalink to this blog post
Posted by Terri Farley @ 3:17 PM
0 comments
---
Thursday, June 23, 2005
Visiting you
Dear Readers,
Guess what the following four questions have in common?
1. Can you do a totally cool event in Bellevue, Washington?
2. Why don't you ever come to Alberta, Canada?
3. I was wondering if you will ever visit the Michigan Barnes and Noble bookstores?
4. Would you ever consider coming to Rawlins, Wyoming? Population 8,000 and in the middle of nowhere ! I would really like for you to let me know what it would take for you to visit our area.
I'm sure you've guessed these are questions from emails I've received. In order, they're from a bookseller, a reader, another reader and a reader's mom. I visited Bellevue and Rawlins and I loved them both. I got to meet lots of kids in Rawlins schools, ate some super Mexican food and had a very fun and successful booksigning.
Here's how it happens: people call or write to my publisher and explain what they have in mind, my publisher checks with me (book deadlines require me to schedule travel as far ahead as possible), they work out my expenses and then, as often as possible, I say YES!
Happy Trails,
Terri
Permalink to this blog post
Posted by Terri Farley @ 9:55 PM
0 comments
---
Tuesday, June 21, 2005
Sigh
HI all,
I turned in book 21 of the PHANTOM series today. Finishing a book is exhausting, exciting and a little sad even though I only say good-bye to my characters for a few days.
The book is titled DAWN RUNNER and it won't come out for a very long time. I'm not sure of the date, but I have seen the finished cover and it's beautiful! If you like Appaloosas, you'll fall in love!
Enjoy your day,
Terri
Permalink to this blog post
Posted by Terri Farley @ 9:49 PM
0 comments
---
Sunday, June 19, 2005
Librarians: So Much More Than Shushers
I was a little kid when the first librarian I remember talking directly to me , smiled at my stack of horse books and told me that my name should be Phillipa because that meant Lover of Horses in Greek. I thought she was so smart, I stood there with my mouth open 'til the next person in line nudged me to move along.
Now, I live in a small town which is growing much too fast, but you'd never know it from our friendly librarians. Since we've lived here, librarians have opened early to help me research sagebrush, stayed open late so I could write in air-conditioned comfort during heat waves, caught my two large, unruly dogs and brought them home, ordered and enjoyed my books and, best of all, said "you might like this" and offered me books more times than I can count!
I could (and probably will, as the blog goes on) list many more reasons to adore libraries and librarians, but my newest one is this: SEVEN TEARS INTO THE SEA has been nominated as a Best Book for Young Adults.
The Best Books Committee of YALSA, the Young Adult Library Services Association, a division of the American Library Association selects a list of the best books for teens from those nominated. So far, it's just a nomination, but IS THIS EXCITING OR WHAT?
Speaking of books, mull over this question the next time you can't fall asleep:
If our civilization changed so horribly that the only books which lived on were those memorized and recounted by a single reader, which book would you BE so that it wouldn't die?
(This idea is from a famous book, but since it sort of gives away the ending, I won't mention the title)
Peace,
Terri
Permalink to this blog post
Posted by Terri Farley @ 2:46 PM
0 comments
---
Friday, June 17, 2005
Window Shopping
HI
Just a quick note. Tomorrow's an adoption day at the Palomino Valley Wild Horse and Burro center and I thought you'd like to see the horses that are available. Don't forget the Calico Range herd management area would be the Phantom's! Here's the link:
http://www.whmentors.org/blmdocs/catalog_pvc_050618.html
Best,
Terri
Permalink to this blog post
Posted by Terri Farley @ 10:20 PM
0 comments
---
Thursday, June 16, 2005
Not Western, not English -- another way to ride a mustang
Dear Readers,
This week I gave a library talk with two wonderful guests -- Mike Myers and Wild Cherry. Wild Cherry is a twelve year old wild horse mare adopted by Mike for his son when she was a weanling. She once roamed the Little Owyhee range and now works at BLM's Palomino Valley Wild Horse and Burro center with other wild horse.
Trained by Mike, she is a multipurpose horse. She can cut, rope, and is great on the trail. She is so calm and even-tempered, Mike often rides her without a saddle or bridle.
Wild Cherry is excellent with children and acts as a goodwill ambassador for BLM's wild horse adoption program. Soon, I'll try to post some photos of Wild Cherry, Mike and some of the 65 kids who showed up!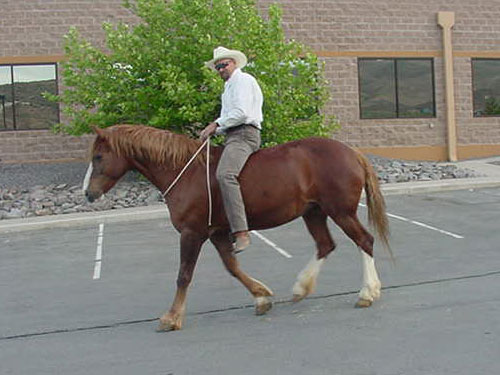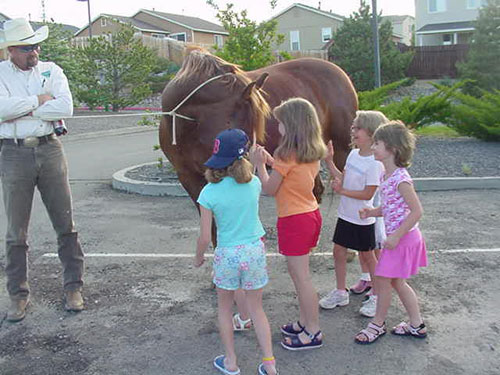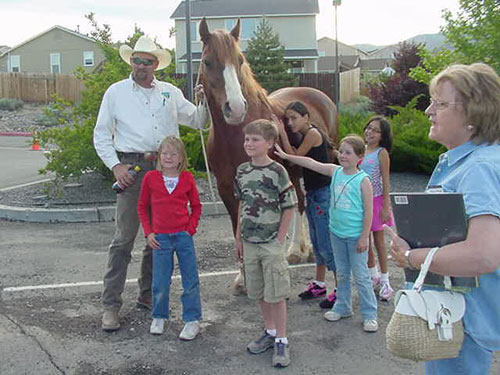 Permalink to this blog post
Posted by Terri Farley @ 5:37 PM
0 comments
---
Wednesday, June 15, 2005
Where in the World?
HI -- I'm on deadline for my next book, but I couldn't resist opening a few emails and WOW you are all over the world!
Here's a sample -- Fenton, Michigan; Toronto, Canada; Edina, Minnesota; Rawlins, Wyoming; San Jose, California; Ontario; Maryland; Australia; Tulelake, California; North Carolina; Tennessee; Sydney, Nova Scotia; Portland, Oregon; Elko, Nevada; Washington, D.C.; New Zealand...
Thanks to you all for keeping in touch!
Happy trails,
Terri
Permalink to this blog post
Posted by Terri Farley @ 10:34 PM
0 comments
---
Monday, June 13, 2005
Top 3 FAQ about PHANTOM STALLION (part 3)
HI again--
If you read any of the reader reviews of PHANTOM books posted on BN.com or Amazon.com, the popularity of this next question won't be a surprise to you. You may even have wondered:
Will Sam and Jake ever be boyfriend and girlfriend?
So far, Samantha and Jake are the best of friends and not romantic about each other. Like most guy/girl friends, though, the relationship can feel a little weird sometimes. Each of them has shown a bit of jealousy, too, when they think the other might like someone else in an other than friendly way. Jake doesn't like it when Darrell flirts with Sam and Sam hates it when Rachel is even civil to Jake.
In RED FEATHER FILLY, Sam and Jake really had to confront what was important to each of them. That was a test. Their friendship survived! Will they ever get together? I have no idea. It may be hard to believe, but my characters surprise me in every book.
I have to add something, though -- I LOVE that you think about my characters as if they were real people. They're that way for me, too!
Soon,I'll answer the top three questions about SEVEN TEARS INTO THE SEA.
Adios,
Terri
Permalink to this blog post
Posted by Terri Farley @ 8:13 PM
0 comments
---
Sunday, June 12, 2005
Top 3 FAQ about PHANTOM STALLION (part 2)
The second most frequently asked question: WILL THERE BE A PHANTOM STALLION MOVIE?
I'd love to see a PHANTOM movie and I've had offers for the rights to make one. So far, though, I haven't heard from anyone who has the same vision for the movies that I do. If that happens, I'll definitely consider a movie about the world of River Bend Ranch, Sam and the horses she loves.
Those of you who'd like to be in the movie -- keep your eyes open. It's my understanding that auditions are handled by the movie director and her staff, but of course I'd love to have someone who knows and enjoys my work playing my characters. If I sign a movie deal, I'll get you the details right away.
Permalink to this blog post
Posted by Terri Farley @ 1:05 PM
1 comments
---
Saturday, June 11, 2005
Top 3 FAQ about PHANTOM STALLION
Dear Readers,
In the next few entries, I'll answer the questions readers ask most:
First -- How did you think of the PHANTOM STALLION SERIES? About my idea...
When I was growing up, most adventurous horse stories had boys as the main characters and I wanted to "fix" that. Since I love writing and horses, writing my own horse books seemed like the way to do that. Still, it took one weird moment to get me going. I was on a ten-day cattle drive and one day after a storm I thought I saw a white horse in a canyon. Since I was riding drag (at the very end, behind the herd), I swung my horse around and doubled back to see if it was a white mustang.
When I go back there, it had vanished. Probably, it was a low-lying cloud or mist, but my imagination just took off. Later I learned many cultures -- as far-flung as Native American tribes and villagers in Japan's river valleys -- tell stories about wild white horses with mystical speed and magical comings and goings. Anyway, all these things came together and the PHANTOM STALLION books were born.
Permalink to this blog post
Posted by Terri Farley @ 2:49 PM
0 comments
---
Thursday, June 09, 2005
Wabi Sabi Welcome
Dear Readers,
Maybe you're wondering : What is Wabi Sabi?
Way over-simplified, it's an appreciation for the beauty of things which are imperfect, incomplete, impermanent, humble or rustic.
Wabi Sabi is a Japanese concept and Wabi Sabi West is a celebration of how the idea touches my life with my readers. Wabi Sabi can mean "to everything there is a season". It can mean fitting yourself to Nature rather than exerting power over it.
There may be as many interpretations of Wabi Sabi as there are people who've felt it.
If you'd like a few examples, read on.
Imperfect -- like a smooth stone which just fits the curve of your palm, though the top is spiky with barnacles
Incomplete -- like a piece of old lace made for your great-great-great-grandmother's wedding day, fashioned into a veil that's unfinished because her husband-to-be died in a Civil War battle
Impermanent -- like a sunbeam dancing through dust motes
Humble -- like rescuing a spider before its sucked down a bath tub drain
Rustic -- like a wooden fence, paint peeling in a pattern that will only be created by winter wind and summer showers, only once, ever
Wabi Sabi West will be down to earth and simple. I'll respond to reader letters and emails, tell you what Nevada looks like from my office window, what the dogs have dragged in, maybe share some research notes for past and future books and I won't stay away from controversial topics, especially if they impact wild horses.
Not a chance. Nope. No way.
Stay safe and happy --
Terri
Permalink to this blog post
Posted by Terri Farley @ 6:19 PM
0 comments
---