Thursday, June 29, 2006
Remember Wild Cherry?
Dear Readers,
Last year I did a library visit with a wild horse and it was so much fun, I just did it again! If you check out my updated website, you'll see her, learn which bookstores and towns I'll be visiting and pick up more Writers Workshop ideas.
I've been slow answering email AND snail mail lately, but I hope you'll be happy when you see my new book! Writing it has been a magical journey.
WILD HONEY will be out in just a few days!
Happy trails,
Terri
Permalink to this blog post
Posted by Terri Farley @ 11:10 PM
0 comments
---
Tuesday, June 20, 2006
Playing with Plots
Dear Readers,
Lots of you enjoy writing stories, but tell me you have trouble focusing. So, I thought I'd share some classic plot ideas that are used by thousands of writers and movie makers every year. With a goal in mind, it's easier to reach the end of your story. At least that's true for me.
1.
Conquering the monster
-- this just means defeating an amazing force like the shark in JAWS, or Grendel in Beowulf, and can be a scary person, too. One of the worst villians I've ever read was Blue Duck in LONESOME DOVE. He still gives me chills when I let him into my mind.
2.
The Quest
-- a group sets off in search of something -- could be Hobbits looking for a ring or ditzy guys returning a briefcase to someone they don't know how to find -- whatever you choose, the story is in the journey and the finding or NOT finding (and not caring?).
Some INDIANA JONES movies use this plot.
3.
Comedy
- weird as it sounds, this doesn't have to be funny. Some kind of
misunderstanding is at the heart of these stories and keeps characters from communicating normally. For instance,Shakespeare uses lots of disguises in his work and in MERCHANT OF VENICE, two characters are attracted to each other, but the girl is in disguise as a guy and this confuses everyone!
4.
Taking a Stand
-- in stories like this, the main character shows moral courage (sometimes physical courage, too) by doing what's right. Note: don't be easy on your characters or her/his victory will evoke a "so what?: response from the reader. My favorite examples are TO KILL A MOCKINGBIRD and SUMMER OF MY GERMAN SOLDIER.
5.
Tragedy
- Someone gives in to the worst part of their character (greed, pride, etc.) and
becomes increasingly desperate or trapped by their action until they pay the price. This works best if this character is admirable except for this one flaw, then you feel sorry for him or her, even if punishment is deserved. MACBETH, for instance, is a basically good guy, but he'll do anything to be king (and his wife is egging him on), until he ends up dying for his ambition.
6.
Rebirth
- the main character is suffering -- maybe from the above weakness, or s/he has been captured, oppressed because of race or beliefs or physical impairment. The character is existing in a state of living death until something changes everything. Snow White is a character like this, but so are some animal stories like SEA BISCUIT, in which an unlikely horse hero is reborn as a champion.
7.
Rags to Riches
- It's fun to play with this storyline & not just have your character go from being poor to rich (like Cinderella), but you might have your character discover what's really important in life, along the way.
Of course there are many more plot ideas. Some are unique & can't be boiled down to a few words, but these could be a fun place to start.
Hoping you find wonderful stories in your imagination,
Terri
Permalink to this blog post
Posted by Terri Farley @ 8:55 AM
0 comments
---
Monday, June 12, 2006
Telling Stories
Your Writing!
Some of you may suddenly have more time for writing stories and poetry and personal experiences, and so I'm reminding you to check out writingkid.com
for some great contest opportunities.
No matter your age or favorite genre, I bet you'll find something you like. Oh, you need examples?
How about a first person real-life story about your relationship with a dog for Dog Health Magazine? Or a contest limited to those who'd like to write a baseball poem? Some contests are limited to young writers with disabilities and there's a contest for Canadian stories by authors 11-19. If you've had a particularly interesting family vacation, you might check out the ezine Family Travel Files.
Is that all? No, there are MANY more writingkid.com.
Don't forget if you want to accumulate credentials to get a book published, winning contests is a good place to start.
At least, it was for me.
HappyMonday
Permalink to this blog post
Posted by Terri Farley @ 5:22 PM
0 comments
---
Saturday, June 10, 2006
Hawaiian Wild Horses
Dear Readers,
Some of you know I recently spent time in Hawaii studying paniolo horsemanship and the wild horses of Waipi'o Valley. While riding in the valley, I wondered if wild horses nibbled away at taro crops.
You'll see from this article Hawai'i's last wild horses incur wrath of farmers -
The Honolulu Advertiser
, it's a problem which is resulting in deaths of wild horses.
If you read my books, you know I'm sympathetic to small ranchers and farmers following traditional ways. Still, there land can be shared with wild horses. Waipi'o Valley's herds draw visitors who contribute to the local economy in quiet, non-polluting ways.
I'm fascinated with these horses' exciting pasts and the ways in which their free hearts match those of human Hawaiians who've held onto a unique and beautiful culture.
Here's a photo of one Waipi'o horse I spotted.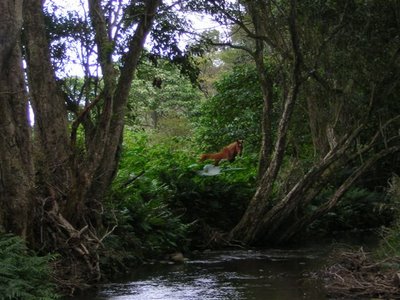 Please stay alert for more news on the fate of these wild ones.
Best, Terri
Permalink to this blog post
Posted by Terri Farley @ 8:22 PM
0 comments
---
Alert!
If you're thinking of donating to the Forever Free wild horse sanctuary in Oregon, please do your homework first. Forty of their adopted mustangs were found in slaughter pens.
Early news reports indicate the United States Fish and Wildlife Service, from which Forever Free got the horses, pays "adoption agents" who live at the same address as known drivers for horse slaughter houses.
For more information, check out ReturntoFreedom.com
Permalink to this blog post
Posted by Terri Farley @ 5:15 PM
0 comments
---
Monday, June 05, 2006
Our Sweetheart
Dear Readers,
So many of you sent healing thoughts and contributed name ideas for My Cheyenne Sweetheart Dreamer, the orphan mustang with the twisted legs, that I knew you'd want to see how happy and healthy she is now!
http://equine.wisecomp.com/SSOrphan.html
Happy trails,
Terri
Permalink to this blog post
Posted by Terri Farley @ 5:09 PM
0 comments
---
Saturday, June 03, 2006
While You're Fingerpainting Arabians....
Dear Readers,
Next week I'll be stopping by the Western States Horse Expo
http://www.horsexpo.com
and hanging out for a couple hours (11:15 - 11:45 & 2:15 - 3:15 -- I'm pretty sure) in the Kids Pavillion.
This is my third visit to the Horse Expo and it is wonderful All different breeds of horses are there -- it's where I saw my first Gypsy Vanner -- all kind of training demonstrations, an equine art show, many classes --
Competitive Trail
Combined Driving
Hunter/Jumper
3-Day Eventing
Trail Classes
Ride & Tie
Mounted Cowboy Shooting
Dressage
Cow Horse
Reining
Cutting
Western Pleasure
Ride & Tie
And YES, you can finger paint (and pet!) the beautiful Castlerock Arabians.
Please come see me if you're there and we can talk, watch my movie & if you like, I'll autograph a book for you.
Happy weekend,
Terri
Permalink to this blog post
Posted by Terri Farley @ 8:49 AM
0 comments
---