Wednesday, March 31, 2010
Let 'em Run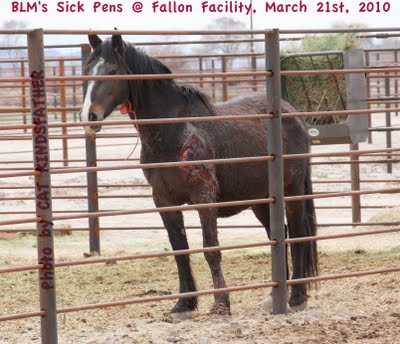 Dear Readers,
The captive wild horse above is the reason that I've barely talked with you since biologist Craig Downer and I returned from BLM's Fallon corrals, Sunday, then searched out remnants of the wild herds of the Calico range on Monday.
Every spare hour since then, we've worked toward this:
FEDERAL LAWSUIT AGAINST WILD HORSE ROUNDUP SEEKS RETURN OF 1800 HORSES TO NEVADA RANGE
When photographer Cat Kindsfather enlarged this photo, she realized that the seepage from this mustang's awful wound had pulsed all the way down to his hoof.
This callous cruelty cannot be allowed to continue.
Terri
Labels: BLM, Craig Downer, Fallon, lawsuit, mustangs, terri farley, wild horse deaths, wild horse injuries, wild horses
Permalink to this blog post
Posted by Terri Farley @ 10:26 AM
---
Comments:
These 'gathers' probably do more harm than good, and it's about time the BLM 'modernized' their tactics. GATHERS DON'T WORK.
~quarterhorseyes
That's horrible! They should find another way to manege the horses.
That's horrible! I hope the lawsuit is successful and they're able to return to the range! All I can picture is that scene from Hidalgo where Frank lets all the mustangs go free... i always cry at that part. Hope this boy's shoulder gets better and the proper treatment!
Crystal xo