Wednesday, December 28, 2005
Virtual Tour of Phantom Country
Q:
I've been looking for places in your books. Can you give me a description of how a ranch actually looks? And what about the Calico Mountains and the playa, do they really exsist in Nevada?
A:
Great question and guess what? Here are some cool photos of the real places:
AT http://www.norcalrover.org/pastevents/BR2002/images/IMG_0379.jpg
you can see the Black Rock Desert, Gerlach, the little town on which I based Alkali, the playa and some Nevada hotsprings.
This site:
www.soldiermeadows.com/
will show you a real ranch where I've hung out. I stayed here on the first night of the cattle drive on which I based Sam's first drive.
Happy trails,
Terri
Permalink to this blog post
Posted by Terri Farley @ 4:20 PM
0 comments
---
Thursday, December 22, 2005
More FAQs
Q: Could you please send me an autographed photograph of you?
A: Until now I didn't have one, but a magazine photographer took a shot of me with horses and a nice northern Nevada landscape. Lots of my friends liked it. So, I had the photo made into postcards for my readers.
Feel free to write and ask for one:
Terri Farley
HarperCollins Children's Books
Author Mail
1350 Avenue of the Americas
New York, NY 10019
Q: I'm from Australia. Seeing as you do a lot of work to
protect America's wild horses from extinction by slaughter and capturing I
was wondering if you could find some information about the brumbies (wild
horses) in Australia and see if it's the same here as it is in America.
A: Thanks for appreciating my work with the wild horses. I don't know enough about your country's wild horses -- only that they've roamed the wild places and stood as symbol of freedom there, as in the U.S., for hundreds of years.
Here's a link to a story about the horses (has some great photos) http://news.mronline.com.au/modules/news/article.php?storyid=47 and you might check out
this website Wild Horses of Western Australia (http://www.brianstone.com.au/wildhorses/) as well.
Q: How do you make a book come out every other month? I mean, wow, I have friends who take longer than that to answer emails!
A: HarperCollins gave me a two year head start on the series before the first book came out!
Permalink to this blog post
Posted by Terri Farley @ 9:39 PM
0 comments
---
Wednesday, December 21, 2005
Heavenly treat
Dear Readers,
Lots of you have figured out that Samantha's Gram loves cooking because I do.
Since I'm taking a little break from writing, I thought I'd share my very favorite cookie recipe.
I was raised in a town with a strong Dutch influence. Not only were these Dutch cookies baked by my mom and grandmother, there's a legend that they're the cookies served to people when they arrive in Heaven!
They're very simple to make & most kitchens have the ingredients.
Jan Hagel Cookies
1 C sugar
1 egg, separated
1 C. soft butter
1 t. cinnamon
2 C. flour
chopped walnuts or almonds
Cream butter and sugar (moosh them together, like with the back of a wooden spoon).
Add egg yolk, flour, then cinnamon and mix them into a dough.
Next, put the dough on a big cookie sheet. You can pat it down with your hands or put a sheet of waxed paper over the top and roll it out with a rolling pin. It's great either way. Though some people like Jan Hagel paper thin, others like them a little thicker. Thin = crisp. Thick = chewy. Both = YUM.
Then, mix the remaining egg white with a little water & brush on top of dough and sprinkle with nuts and a cinnamon-sugar mixture (just like you would for cinnamon toast topping).
Bake at 300 degrees until they're lightly browned -- length of time depends on your oven & how thick you decide to make them -- but start with 15 & don't be afraid to let them go longer.
When you take them out, you can let them cool a few minutes, then cut into rectangles or squares. ENJOY!!!
Permalink to this blog post
Posted by Terri Farley @ 11:11 PM
0 comments
---
Wednesday, December 07, 2005
Please and Thank-You
DearReaders,
No cookies, lights or tree at my Nevada home so far, since I'm working hard to finish a book before the holidays.
PLEASE forgive me for posting few blog entries and being incredibly slooooooooow on email!
THANK-YOU for all your wonderful emails and letters saying wonderful things about my books, characters, settings, etc. Having you love the worlds I write is a wonderful reward!
Wishing you warmth and happiness,
Terri
Permalink to this blog post
Posted by Terri Farley @ 5:47 PM
0 comments
---
Thursday, December 01, 2005
Rainy Thursday
Dear Readers,
It's rainy, cold and windy in my part of Nevada. I am NOT ready for another Sierra winter, but for the first time since I left teaching to write full-time, I'm feeling glad I don't have to put on a skirt and high heels, fight with my car door to get inside and hustle to school. Working in jeans with a cat on my lap sounds pretty cozy this morning.
The horses I can see from my window -- Shamrock (retired roping horse), Darlin' (a young brown and white paint) and Whiskey (bossy dark chestnut gelding) -- refuse to go into their shelter. They're standing with rain dripping from their manes, looking glum and thinking who-knows-what.
Want to SEE great news on the orphan filly? Visit her website
http://equine.wisecomp.com/SSOrphan.html
. Here she is (watch for a photo soon, if you don't see it now) kicking up her heels because she's feeling so much better!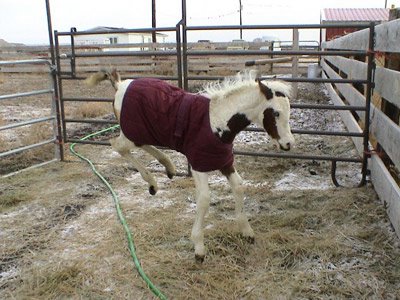 Permalink to this blog post
Posted by Terri Farley @ 6:32 AM
0 comments
---