Monday, April 05, 2010
Ghost Dancer: still there
Dear Readers,
The Medicine Hat mare with the magnetic mood is still at the Indian Lakes BLM holding facility in Fallon.
She's shown here, photographed by Mark Terrell, just a few weeks after capture.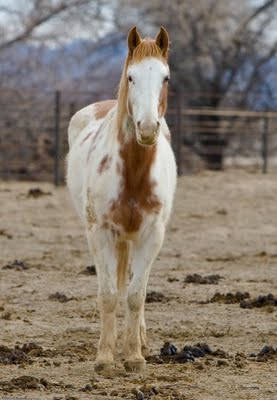 In these two photos -- one by Craig Downer and the other by Tara Kain -- she's been put in a pneumatic cage,vaccinated, hung with a red rope and numbered tag, then neck branded. You can see the freeze brand on her neck if you look closely. It will be there forever.
She looks thinner, even though food is delivered at the fence.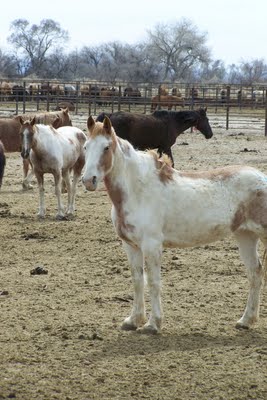 I'm calling this mustang Ghost Dancer because she once roamed Native American lands and the Ghost Dance ceremony was one of rebirth.
That's what I wish for these horses, a return to the range where their spirits can run free again.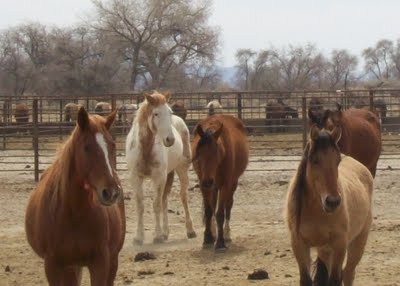 Best to you all,
Terri
Labels: Craig Downer, Fallon, Indian Lakes, Medicine Hat, mustang, terri farley, wild horses
Permalink to this blog post
Posted by Terri Farley @ 2:52 AM
---
Comments:
dear Mrs. Tarri....
I love your books. I am 12 years old am still on the second book for the millianth time... I love your phantom stallion seres and hope to read seven tears into the sea..
love your biggest fan
p.s. i do not have an account on google so i used my friends...
he is in my class at school... my email is
[email protected]
please email me if you'ed like...
I had a dream last night that you posted something saying that the mare was going to be adopted. A little odd, but I've had odder dreams.
A return to the range is what I'm hoping for, too.
~quarterhorseyes
Perhaps you should dream of wild horses more often! It always helps.
See today's post :)
Aww She's beautiful :)
[Nevada Sunshine]