Tuesday, May 30, 2006
Mustang Eyes
Just a quick request for help! I know there hundreds, maybe thousands of horse lovers reading this. If you're not studying for exams, picking out hooves, or something even more important, I could use your assistance finding photographs of beautiful chestnut/sorrel horses -- with flaxen manes and tails! If you have one (it might even be your own horse!) that you feel is
exceptional
, please email it to me at
[email protected]
before Friday!
Thanks so, so, so much! As I just told a fansite manager, if it weren't for my readers, I'd just be a woman sitting alone, barefooted in jeans, sipping my coffee, dreaming dreams of wild horses....
Permalink to this blog post
Posted by Terri Farley @ 1:09 PM
0 comments
---
Wednesday, May 24, 2006
Another Wave
Happy Thursday!
What is it about SEVEN TEARS INTO THE SEA? Letters from readers who are, to quote:
"... enchanted by SEVEN TEARS INTO THE SEA!!!!!!" -- come in waves. Or is that natural for a book that takes place at the beach?
I don't know, but I loved writing this book. Each page was an undulating magic carpet ride. I never knew where I'd go next, but I was flying! The setting still haunts me.
Some of you are new to my blog, so you might want to know that you can look in the Archives for FAQ about SEVEN TEARS -- check January 13 and September 11, 2005.
Also, you might be amazed to see the original cover to SEVEN TEARS. Try following the link below and check out the artist's wonderful work! I'm very happy with the cover that SEVEN TEARS has now, but I know you'll enjoy this, too! Just go to the page, look down on the right and you'll see the caption SEVEN TEARS INTO THE SEA under a magical picture. Click, go and sigh!
http://art.webesteem.pl/6/pham_en.php
Permalink to this blog post
Posted by Terri Farley @ 10:50 PM
0 comments
---
Ponies Helping People
HI,
I thought you might like to see the Unicorn Ranch's feel-good pony Honey, making a hospital visit. Cut and paste this into your browser:
http://www.unicornranch.org/album/outreach/slides/PICT0195.html
Don't you love her bows? Wouldn't she make you feel better?
For more information about the Unicorn Ranch in Oregon, visit UnicornRanch.org.
Happy trails,
Terri
Permalink to this blog post
Posted by Terri Farley @ 10:37 AM
0 comments
---
Monday, May 22, 2006
THROWBACK
Dear Readers,
Since DAWN RUNNER has been out. I've heard from lots of readers who want to know more about mythical horses like the Dawn Runner.
I'm delighted to share some stories I know but, the first horse who popped into my mind was a REAL horse who grew to be a legend.
Bucephalus was Alexander the Great's horse and a WILD THROWBACK TO PREHISTORIC TIMES.
Alexander & his great black horse got together (his name means bull head & though some say the horse had a very wide brow, others say he was named for a white shoulder marking)when Alex was 12-years old. He tamed the unrideable stallion with kind words and careful observation -- noticing Bucephalus was shying from his own shadow.
The story goes Alexander rode the stallion into the sun and lots of people have used that as a metaphor for the rest of Alexander's life, since he went on to what was considered glory at the time. He conquered much of the known world and rode the Bucephalus until the stallion died of battle wounds. Alexander grieved and named a city after his horse.
But wait, there's more -- legend also says that Bucephalus had TOES in place of a front hoof. This would mean he was a throwback to Euohippus, or another very, very early horse.
Is this possible? Research it on your own! You might start by looking up
polydactlism
!
Best,
Terri
Permalink to this blog post
Posted by Terri Farley @ 8:31 AM
0 comments
---
Saturday, May 20, 2006
Barbaro
Dear Readers,
He's not your horse or mine, but please hold good thoughts for Barbaro after his terrible injury during the Preakness.
Early reports from
Thoroughbred Times
say the stallion's ankle broke just 100 yards into the race, but the jockey could not get him stopped until just past the finish line.
You know he will get the best of care.
Terri
Permalink to this blog post
Posted by Terri Farley @ 6:58 PM
0 comments
---
Thursday, May 18, 2006
You did it!
Dear Friends of Wild Horses,
You did it! The House of Representatives passed the appropriations bill rider
UNANIMOUSLY!
Yes, there will be more battles, but this goes to show what watchful and determined
people can do.
You are wonderful.
Terri
Permalink to this blog post
Posted by Terri Farley @ 6:07 PM
0 comments
---
Wednesday, May 17, 2006
SPEAK UP EVEN IF YOUR VOICE SHAKES
Dear Readers,
When I'm trying to decide whether I should do something that makes me feel shy or uncomfortable or scared, I ask myself two questions: What's the best thing that could happen if I do it? What's the worst thing that could happen if I don't?
This morning, the decision wasn't hard. I had to make a phone call.
The best thing that could happen: thousands of wild horses could be saved.
What if I'd made myself some breakfast...answered some emails...walked the dog...got back to writing my next book...and oh yeah, "forgot" to make that call or write to you? What if our missing calls were the ones that sent horses to slaughter?
I can't live with that.
Thousands of you tell me you'd place your own bodies between a wild horse and danger, but you're afraid your tongue will get tangled when you call a congressman office. So what? COWGIRL UP.

Tomorrow
the House of Representatives votes on Interior Department Appropriations (funding...like how much money they get & what they can spend it on)
BLM is part of the Interior Department and Congressman Rahall -- a big supporter of horses -- has proposed an amendment saying the Interior department CAN NOT round up wild horses and allow them to be slaughtered.
At least 8,200 wild horses are waiting in corrals and their lives depend on this vote. Other horses will be rounded up this summer. You can help save them.
Just call your Congressman and express your opinion.
You guys read millions of books. You can read thirteen words into the phone: "Please ask the Congressman to vote YES on the Rahall Interior Appropriations Amendment."
Thirteen words. Do you really believe the horses care if your tongue tangles on one or two of them?
If you need to find your Rep, go here and type in your zip code - http://www.congress.org/ then call the local number for your Congressman's office.
If you're feeling gutsy and your parents will let you make a long distance call, phone the Washington office, too and read the same words over again.
Stand up for what you believe,
Terri
Permalink to this blog post
Posted by Terri Farley @ 8:51 AM
0 comments
---
Monday, May 15, 2006
But are they good horses?
Dear Readers,
I just ran across a quote from a wild horse specialist in Utah explaining why wild horses make such good riding companions:
"They are different than domestic horses — they're not silly and they can quickly figure out what will hurt them and what won't...Wild horses know they can take care of themselves . . . yet they have the herd dynamic and are used to taking direction."
To read more and see a photo of a 5 year old mustang visiting a school, visit here: A http://deseretnews.com/dn/view/0,1249,635207629,00.html
Have a wonderful day,
Terri
Permalink to this blog post
Posted by Terri Farley @ 7:27 AM
0 comments
---
Sunday, May 14, 2006
Mom Talk & Fansite
Dear Readers,
This morning while I was on a Mother's Day bike ride, I saw two horses trotting down a street, headed for a freeway entrance. Several cyclists put down their bikes and herded the horses home. Those horses were lucky, but I'd feel bad if I didn't remind you all to check and double-check your corral gates, dog runs, screen doors, etc. to make sure your animals stay put. Even if they don't know it and think their job is to explore, your animals depend on you to keep them safe.
Just for fun, you might want to check out a
revived
fansite -- Phantomstallion.org.
and a new one http://www.freewebs.com/aceloveralways/
Happy trails,
Terri
Permalink to this blog post
Posted by Terri Farley @ 10:49 PM
0 comments
---
Saturday, May 13, 2006
Galloping on the Beach
Dear Readers,
It's no secret that I love the beach and horses. So when a friend sent me information about artist Heather Jansch, I was in heaven.
To take a virtual art tour to the Westcountry of England and travel a steep woodland trail to the artist's beach studio, use the link below. Her driftwood sculptures of horses and other animals are absolutely magical.
She also has a web page for students doing artist studies for school.
Have fun!
heatherjansch.com
Permalink to this blog post
Posted by Terri Farley @ 9:25 AM
0 comments
---
Thursday, May 11, 2006
Free Again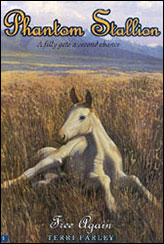 Dear Readers,
Do you know the story behind this PHANTOM STALLION cover?
Use your brain and sleuthing skills to find out!
Happy trails,
Terri
Permalink to this blog post
Posted by Terri Farley @ 9:28 PM
3 comments
---
WILD HORSE alert
Dear Readers,
The wild ones need help again, especially if you're from
one of these 21 states--
Alabama, Arizona, California, Colorado,
Florida, Illinois, Indiana, Kentucky, Louisiana,
Maryland, Michigan, Minnesota, New Hampshire, New York, North Carolina,
Ohio, Oregon, Pennsylvania, Tennessee, Virginia or Washington. Why? Several Congressman from these states cosponsored HR 857 to prevent horse slaughter (remember: Department of Agriculture hired foreign horse meat inspectors to come into U.S. slaughter factories since it was illegal to use American inspectors), but have NOT cosponsored H.R. 503 which restates Americans' opposition to horse slaughter.
To find out how to contact the Congressmen above, go to aspca.org
the American Humane Society's website, and way over on the right, under the photo of the puppy, you'll see a link to Federal Horse Slaughter.
One of my readers suggested we remind Congressmen of wild horses' contribution to American by sending them this earlier blog entry about COMANCHE, the mustang survivor of the Battle of Little Big Horn:
Two days later, General Terry's command arrived and saw the horror -- no survivors, to a man, and all except Custer himself horribly mutilated. Many horses lay dead or dying; some had been killed by their own men to serve as breastworks. But amid the carnage, there appeared a miracle: a badly wounded horse, bleeding from seven bullet holes, still standing with his head low, in the cottonwoods along the banks of the Little Big Horn River. Should he be shot? One man said no, perhaps longing for a survivor on this field of death, and sensing that the horse could endure.
The horse was Comanche, named, according to legend, for the courage he exhibited when a farrier removed an arrowhead from his flank after he was wounded by Indians during a previous battle. Comanche was taken by steamer to Fort Lincoln, nursed back to health, transferred to Fort Riley and retired with honors. ''. . . His kind treatment and comfort should be a matter of special pride," stated General Order No. 7. ''. . . Though wounded and scarred, his very silence speaks more eloquently than words of the desperate struggle in which all went down that day."
On July 4, 1876, as word of the Custer massacre reverberated across the land, our traditional birthday parties became assemblies of grief. But there was hope -- Comanche had lived, and through him so had the country's dream of the frontier.
The Wild Horses helped us fight wars and gain freedom. It's time we returned the favor.
Permalink to this blog post
Posted by Terri Farley @ 4:11 PM
0 comments
---
Tuesday, May 09, 2006
What shall I read?
A couple new suggestions
Fly by Night
by Frances Hardinge
An orphan and her homicidal goose battle censorship in an 18th century England that never really existed. This quote will tell you all you need to know about the tough-minded main character:
"Look at us, we're thieves, and mill burners, and spies, and one of us is a cutthroat as well. We're Criminals of the Murkiest Hue, and we're not even very good at it."

Chicks Ahoy
by Lynda Sandoval
Camille and Jane are teens working on a cruise ship under eagle-eyed supervision of the captain (Camille's dad) when they learn what it REALLY means to be BFF.
I admit the author is my friend, but I'd love her writing even if she weren't. Lynda Sandoval is ALWAYS funny, but her work is NEVER junk-food for the brain!
(YOUNG ADULT)
ON THE FRINGE
edited by David R. Gallo
Writers you'll recognize took the shootings at Columbine High School to heart and asked themselves what it meant to be different in school today. In these stories you'll see yourself and people you know. Written by ten different authors, some stories are violent, some are darkly funny and all, at least to me, were painful to read. So why read them? Because they'll nudge you toward standing up for what you believe, even when it's easier to turn away.
(YOUNG ADULT)
Permalink to this blog post
Posted by Terri Farley @ 4:30 PM
0 comments
---
Monday, May 08, 2006
Kaimanawa Wild Horses
Dear Readers,
This note is not just for my readers in New Zealand, but for any of you interested in learning about horses around the world.
The Kaimanawa Wild Horse Preservation Society (KWHPS) wants people interested in taking home a horse from the muster (for U.S. readers -- this is a gather or drive) in June, to apply.
Those acquainted with these horses say they've proved themselves in everything from pony clubs and horse trekking, to working the farm and as therapuetic mounts.
I've never seen these horses with my own eyes. Judging by online photos, they're magnificent!
You can get a glimpse, here: http://kwhps.homestead.com
Permalink to this blog post
Posted by Terri Farley @ 8:21 AM
0 comments
---
Friday, May 05, 2006
Virtual Vacation
Dear Readers,
So many of you ask me what it's like in the state I write about, I'm sending you a virtual trip to Nevada ! Go to TRAVELNEVADA.COM
The site has wonderful photos and links to sign for a free NEVADA magazine (I used to write articles for it!) and other free stuff about Nevada. If you click on the drop-down menu for Accomodations, there's even a listing for Guest Ranches. Take a look at the FACTs page and you'll learn what it's really like in PHANTOM country.
Have fun,
Terri
Permalink to this blog post
Posted by Terri Farley @ 9:11 AM
0 comments
---
Humans Eating Horses: Then and Now
Dear Readers,
There's a scene in DAWN RUNNER in which Sam and her best friend Pam, from San Francisco, sit in campfire light listening to Pam's mother explain humans' early relationship with horses -- as food. So, it was interesting to me to read this article:
http://www.livescience.com/animalworld/060501_extinct_horses.html
which explores discoveries which indicate human consumption wiped out mammoths and wild horses in Alaska around 12,000 years ago.
People surviving on the frozen tundra didn't have much to eat, then, but today?
In this article
http://www.emagazine.com/view/?3173 you'll read about filmmakers who went undercover to make a documentary on Texas factory workers slaughtering 88,000 horses. It's not a pleasant read, but I admire the filmmakers who don't just sit back and say, "wow, that's too bad." They believe people have a right to know what's happening and get the facts to prove it.
Related deadline
: Today is the last day to write a letter to the heads of BLM expressing your feelings about the future of Cloud and his mustang herd in the Pryor Mountains. You can go to TheCloudFoundation.org for a sample letter and addresses.
Thanks for caring.
My readers are the best.
With hugs for you all,
Terri
Permalink to this blog post
Posted by Terri Farley @ 8:25 AM
0 comments
---
Wednesday, May 03, 2006
Free Poetry
Dear Readers,
I know lots of you are poets and love reading poetry. So, when I heard that America's Poet Laureate was giving FREE publication rights to his poetry column which will feature new poems from many different poets everyday, I had to share. The website is
AmericanLifeinPoetry.org
and here's the poem for today which kind of imagines the secret life of coins! You know, like that dime in your pocket? Where was it before you and where will it be in a year?
Some people's creativity just knocks me out!
American Life in Poetry: Column 057
BY TED KOOSER, U.S. POET LAUREATE
Midwestern poet Richard Newman traces the imaginary life of coins as a connection between people. The coins—seemingly of little value—become a ceremonial and communal currency.
Coins
My change: a nickel caked with finger grime;
two nicked quarters not long for this life, worth
more for keeping dead eyes shut than bus fare;
a dime, shining in sunshine like a new dime;
grubby pennies, one stamped the year of my birth,
no brighter than I from 40 years of wear.
What purses, piggy banks, and window sills
have these coins known, their presidential heads
pinched into what beggar's chalky palm—
they circulate like tarnished red blood cells,
all of us exchanging the merest film
of our lives, and the lives of those long dead.
And now my turn in the convenience store,
I hand over my fist of change, still warm,
to the bored, lip-pierced check-out girl, once more
to be spun down cigarette machines, hurled
in fountains, flipped for luck
these dirty charms
chiming in the dark pockets of the world.
Permalink to this blog post
Posted by Terri Farley @ 9:40 AM
0 comments
---