Monday, April 05, 2010
Ghost Dancer: still there
Dear Readers,
The Medicine Hat mare with the magnetic mood is still at the Indian Lakes BLM holding facility in Fallon.
She's shown here, photographed by Mark Terrell, just a few weeks after capture.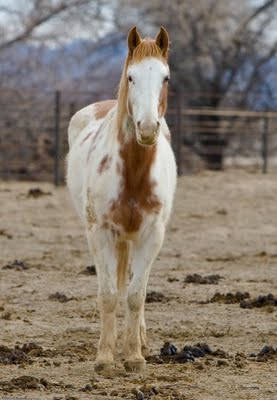 In these two photos -- one by Craig Downer and the other by Tara Kain -- she's been put in a pneumatic cage,vaccinated, hung with a red rope and numbered tag, then neck branded. You can see the freeze brand on her neck if you look closely. It will be there forever.
She looks thinner, even though food is delivered at the fence.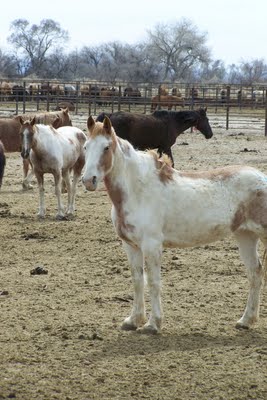 I'm calling this mustang Ghost Dancer because she once roamed Native American lands and the Ghost Dance ceremony was one of rebirth.
That's what I wish for these horses, a return to the range where their spirits can run free again.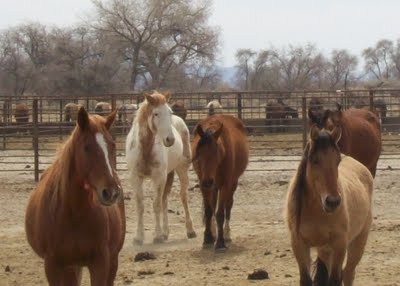 Best to you all,
Terri
Labels: Craig Downer, Fallon, Indian Lakes, Medicine Hat, mustang, terri farley, wild horses
Permalink to this blog post
Posted by Terri Farley @ 2:52 AM
4 comments
---
Sunday, March 14, 2010
The Medicine Hat is Missing
Dear Readers,
Three wild horse advocates searched for this captive horse today.
photo by Mark Terrell
They couldn't find him. If BLM can't supply photo verification that he's still there, we need to know what's happened to him.
Those of you who read my books know that I'm partial to sorrel horses like Hoku and sassy little bays like Ace, but this horse, because of his flashy coloring SHOULD be easy to follow through BLM processing.
I will ask BLM if I can go out and search the corrals this week.
You can see more photos of your mustangs in the feedlot in Fallon
here
I'll let you know what happens next.
Terri
Labels: BLM, Fallon facility, Indian Lakes, Medicine Hat, wild horses
Permalink to this blog post
Posted by Terri Farley @ 9:18 PM
4 comments
---
Saturday, February 20, 2010
Saving a Stallion
photo by Mark Terrell
Wild Horses of Nevada
Dear Readers,
I'm in love with this horse, a Medicine Hat stallion, captive at BLM's Fallon corrals.
Although I have very mixed feelings about naming wild horses, in my imagination he has a name. And a story. During the last two days I've been writing it. I can't seem to stop.
I hope to keep track of him and see that he's set free in the spring.
Do you know any stories about Medicine Hat horses? Please respond to this blog post if you do, and we can share what you know with other readers.
Best to you,
Terri
Labels: BLM, Eagle Lakes, Fallon, Medicine Hat, mustang, phantom stallion, wild horses
Permalink to this blog post
Posted by Terri Farley @ 10:25 AM
8 comments
---