Saturday, April 03, 2010
Phantom foals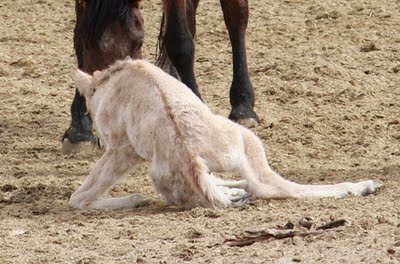 photo used by permission of Cat Kindsfather

Three things to think about:
1)
Newborn horses like the dun foal above
-- trying to rise and nurse despite a broken leg suffered in a corral crowded with adult horses --
do not exist in the world of BLM
until they are branded.
2) Only one vet is under contract to care for the thousands of mustangs in BOTH the Fallon and Palomino Valley facilities.
3) Despite promises to welcome the public at wild horse gathers and holding pens, program manager Don Glenn allows NO humane observers at the wild horse facilities except "by appointment"
If you object, please sign this petition to President Obama, asking for
an immediate moratorium on wild horse roundups
Labels: BLM, Don Glenn, Indian Lakes, mustangs, Palomino Valley, phantom foals, pigeon fever, terri farley, wild horse deaths, wild horses
Permalink to this blog post
Posted by Terri Farley @ 2:00 AM
7 comments
---
Thursday, February 18, 2010
Why is BLM so fussy?
photo by Deniz Bolbol shows how close choppers get to wild horses

The BLM announced a strict new visitation policy to the Fallon wild horse facility.
Ten people each week, on Sunday for two hours will be allowed to view the horses. This INCLUDES humane observers.
read more at In Defense of Animals'
blog
Their excuse? BLM staff has lots of work to do, branding, vaccinating, etc.
This excuse concerns me because I've watched these tasks go on at the Palomino Valley holding pens and not only didn't I interfere, but no one huffed around saying, "I can't work when you're looking at me, Terri."
In fact, no one seemed to notice I was even there.
So why is BLM being so fussy now?
photo by Mark Terrell
(watch for more!)
Labels: BLM, Eagle Lakes, Fallon, humane observers blocked, mustangs, Palomino Valley, wild horses
Permalink to this blog post
Posted by Terri Farley @ 4:50 AM
9 comments
---