Friday, April 09, 2010
Virtual Visit to Your Horses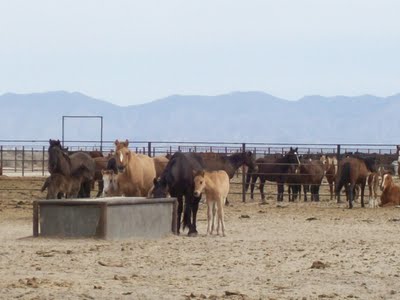 Hola Readers,
On March 28, mustang advocate Tara Kain took these photos at the wild horse holding pens in Fallon & she is allowing me to share with you.
Above, you'll see some phantom foals, whose births and deaths are not recognized by BLM until the foals are branded.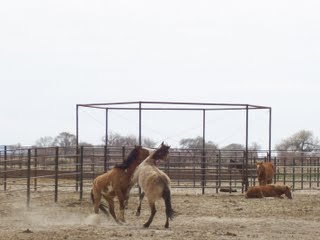 High spirits can get you hurt in crowded conditions, but these two mustangs have found a somewhat open spot for play.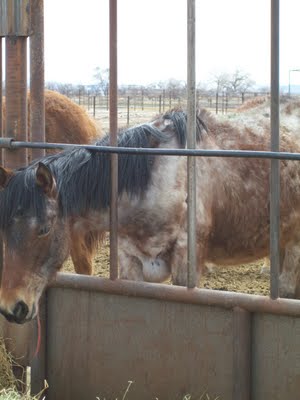 This mustang's chest shows signs of the pigeon fever which BLM first said was 1) impossible this time of year 2) showing up at Fallon, but not worth treating.
What will that do to wild horses' chances of being returned to the range or transferred to other BLM facilities? And if BLM deemed these same horses healthy when they came in off the range AND say the time of year AND soil conditions aren't right to transmit the disease at the Indian Lakes facility, where did it come from? Some are suggesting horses were infected in the trucks of their captors.
The Cattoor family website claims the company has "humanely" rounded up 150,000 wild horses, burros and wild cattle. Horse experts have mused that one of the main symptoms of Pigeon Fever, seeping pus, might remain behind in even a washed trailer. If it wasn't completely disinfected, they tell me, it could become a crucible of contamination.
I know some of my readers are experienced with Pigeon Fever. What do you think?
Adios,
Terri
Labels: Cattoor, Fallon, Indian Lakes, mustangs, phantom foals, pigeon fever, wild horses
Permalink to this blog post
Posted by Terri Farley @ 2:22 PM
4 comments
---
Monday, April 05, 2010
Ghost Dancer: still there
Dear Readers,
The Medicine Hat mare with the magnetic mood is still at the Indian Lakes BLM holding facility in Fallon.
She's shown here, photographed by Mark Terrell, just a few weeks after capture.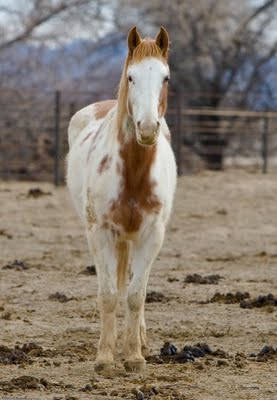 In these two photos -- one by Craig Downer and the other by Tara Kain -- she's been put in a pneumatic cage,vaccinated, hung with a red rope and numbered tag, then neck branded. You can see the freeze brand on her neck if you look closely. It will be there forever.
She looks thinner, even though food is delivered at the fence.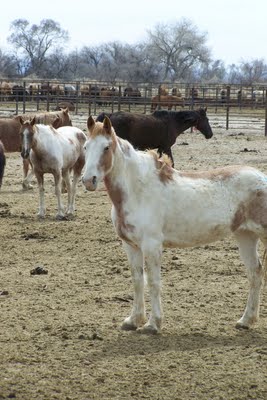 I'm calling this mustang Ghost Dancer because she once roamed Native American lands and the Ghost Dance ceremony was one of rebirth.
That's what I wish for these horses, a return to the range where their spirits can run free again.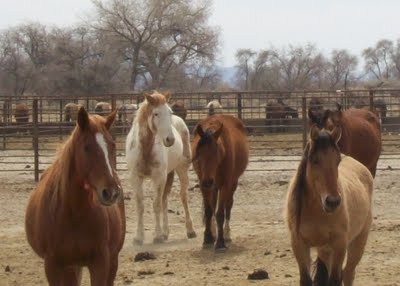 Best to you all,
Terri
Labels: Craig Downer, Fallon, Indian Lakes, Medicine Hat, mustang, terri farley, wild horses
Permalink to this blog post
Posted by Terri Farley @ 2:52 AM
4 comments
---
Saturday, April 03, 2010
Phantom foals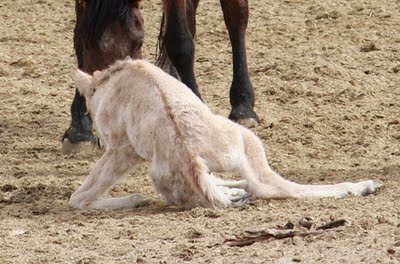 photo used by permission of Cat Kindsfather

Three things to think about:
1)
Newborn horses like the dun foal above
-- trying to rise and nurse despite a broken leg suffered in a corral crowded with adult horses --
do not exist in the world of BLM
until they are branded.
2) Only one vet is under contract to care for the thousands of mustangs in BOTH the Fallon and Palomino Valley facilities.
3) Despite promises to welcome the public at wild horse gathers and holding pens, program manager Don Glenn allows NO humane observers at the wild horse facilities except "by appointment"
If you object, please sign this petition to President Obama, asking for
an immediate moratorium on wild horse roundups
Labels: BLM, Don Glenn, Indian Lakes, mustangs, Palomino Valley, phantom foals, pigeon fever, terri farley, wild horse deaths, wild horses
Permalink to this blog post
Posted by Terri Farley @ 2:00 AM
7 comments
---
Friday, April 02, 2010
Pigeon Fever Plagues Calico Horses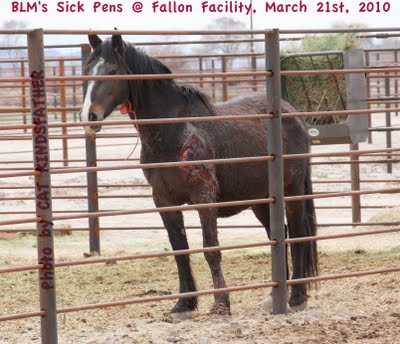 photo by Cat Kindsfather
Dear Readers,
The misery visited on the wild horses of the Calico mountains goes on.
Pigeon Fever was diagnosed by visitors to the feedlot style holding pens in Fallon, a place called Indian Lakes. Sounds nice, doesn't it?
Sadly, the photo I showed you a few days ago -- -shown again above -- could be a horse suffering from this condition.
Treatment for Pigeon Fever includes warm compresses, ISOLATION and hygenic conditions. Wild horses at Indian Lakes are getting none of this treatment.
Why?
"The incidence of Pigeon Fever at the Indian Lake Facility is at the same percentages that exist on the Calico Complex," BLM's contract vet, Dr. Sanford says, so "no treatments have been administered to date."
Even if this condition crops up on the range, too, horses running free do NOT stand around with two thousand other mustangs in crowded conditions where
they can't avoid contact with each others' streaming pus.
Gross? Yes, and maybe that's why BLM is not only closing Indian Lakes to visitors on Easter Sunday, but director Don Glenn has refused to schedule a make-up day.
Secrecy leads to suspicion, and since day 1 of the Calico round up, it's been justified.
If BLM won't take even basic precautions -- like putting infected horses in hospital pens -- could it be because they want an excuse NOT to free them back to their home range? Or is it just too much trouble?
Best,
Terri
More info on Pigeon Fever from Colorado State veterinarians:

Clinical signs:
Early signs can include lameness, fever, lethargy, depression and weight loss.
Infections can range from mild, small, localized abscesses to a severe disease with multiple massive abscesses containing liters of liquid, tan-colored pus.
External, deep abscesses, swelling and multiple sores develop along the chest, midline and groin area, and, occasionally, on the back.
Incubation period: Horses may become infected but not develop abscesses for weeks.
Animals affected:The disease usually manifests in younger horses, but can occur in any age, sex, and breed.
A different biotype of the organism is responsible for a chronic contagious disease of sheet and goats, Caseous lymphadenitis, or CL. Either biotype can occur in cattle.

Disease forms:
Generally 3 types: external abscesses, internal abscesses or limb infection (ulcerative lymphangitis).
The ulcerative lymphangitis is the most common form worldwide and rarely involves more than one leg at a time. Usually, multiple small, draining sores develop above the fetlock.
The most common form of the disease in the United States is external abscessation, which often form deep in the muscles and can be very large. Usually they appear in the pectoral region, the ventral abdomen and the groin area. After spontaneous rupture, or lancing, the wound will exude liquid, light tan-colored, malodorous pus.
Internal abscesses can occur and are very difficult to treat
.

Treatment:
Hot packs or poultices should be applied to abscesses to encourage opening. Open abscesses should be drained and regularly flushed with saline.
Surgical or deep lancing may be required, depending on the depth of the abscess or the thickness of the capsule, and should be done by your veterinarian.
Ultrasound can aid in locating deep abscesses so that drainage can be accomplished.
External abscesses can be cleaned with a 0.1 percent povidone-iodine solution
Antiseptic soaked gauze may be packed into the open wound
A nonsteroidal anti-inflammatory drug such as phenylbutazone can be used to control swelling and pain
Care required:
Buckets or other containers should be used to collect pus from draining abscesses and this infectious material should be disposed of properly.
Consistent and careful disposal of infected bedding, hay, straw or other material used in the stall is vitally important.
Thoroughly clean and disinfect stalls, paddocks, all utensils and tack.
Pest control for insects is also very important.
Recovery time: Usually anywhere from two weeks to 77 days.
Labels: BLM, Craig Downer, Don Glenn, Fallon, Fallon facility, Indian Lakes, Pgeon Fever, terri farley
Permalink to this blog post
Posted by Terri Farley @ 3:01 PM
5 comments
---
Friday, March 26, 2010
Fallon Foal Death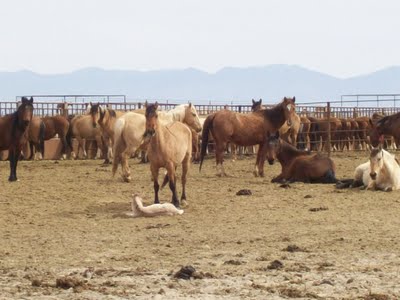 Mare stands guard over new foal, photo by Tara Kain
There's a new set of hooves in Heaven.
BLM's death tally for the week doesn't show what happened.
However, visitors are allowed to tour the tax payer funded Indian Lakes wild horse facility. It's land-locked inside a private ranch in Fallon, Nevada, but opened once each week by reservation only for two hours.
Three observers from the CalNeva Cloud Foundation and photographer Cat, visited Sunday, March 21 and took photos, video and notes.
Saturday, March 20
a pale dun foal is born to a buckskin mare

Sunday, March 21
11:00 Members of the public arrive to tour the Fallon facility. Director John Neill is their guide and he waits for a late arrival
11:37 tour begins
11:45 visitors observe buckskin mare and newborn foal in a pen with other adult horses. Foal looks like "he had melted into the contours of the ground" according to one observer and Mr. Neill said the foal was a weak newborn from the night before.
12:30? Sometime during the tour, members of the public notice a nursery pen with just six mare and foal pairs inside and wonder why the buckskin and her foal aren't with them*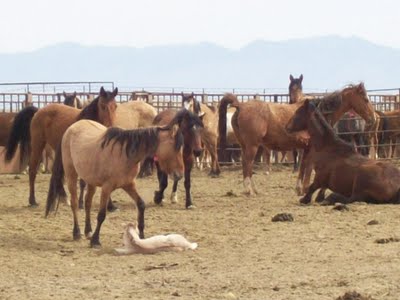 (RIGHT: As adult horses move, mare makes a protective barricade of her body, photo by Tara Kain)
1:45 Tour ends, passing by the buckskin mare and her foal. Mr. Neill agreed with visitors that foal might be sick and indicated he would check on it. If necessary, a vet would be called. He added that volunteers from WHOA might be asked to bottle feed the foal if it couldn't rise to nurse.
2:00 as observers depart, foal is still down.
Monday, March 22
no deaths are listed on the BLM's facility update, so CalNeva Cloud observers hope for the best

Tuesday, March 23
9:55 am
Still no deaths listed for the weekend**, but one observer calls and talks to John Neill who says "the colt was euthanized." She understands Neill to say the vet had determined the colt had a broken femur and must have been kicked.
The caller commented, "Oh, that's why he never got up."
Neill replied, "No, he was up that morning nursing." Sometime after that, he speculated, the colt must've been kicked."
Neill said the foal was destroyed via chemical injection.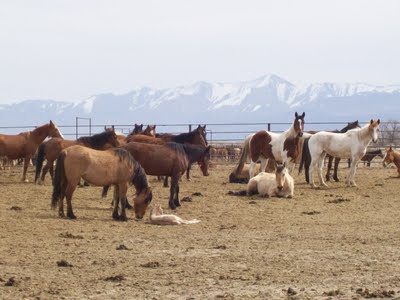 (with freedom tantalizingly close, mare urges foal to rise and nurse, photo by Tara Kain)

Friday, March 26
I reached John Neill at Palomino Valley wild horse corrals and he answered my questions about the Medicine Hat stallion I've told you about before and this foal.
He clarified two points from the timeline above:
* "Once we know the colt's strong, we put them in the nursery pen" along with their mothers
**
Live births are not entered into BLM's system until horses have been freeze-branded, which takes place after four or more months.
Since foals delivered "in facility" are not listed as born, they are not listed as dead. So, they are not posted on BLM's online Calico Round-up updates.

John Neill described the last hour of the little dun's life.
"He was down during the tour. Afterward I went out to check on him and he was packing a right hind leg and he had to be put down."
"When did the vet come?" I asked.
"He didn't."
"Was it a compound fracture so that you could see it was broken?"
John answered, "I could just tell, so I took care of it."
After our call ended, my English teacher brain flashed to "I am cruel only to be kind." Hamlet, I remembered, and knew that if I were watching over a newborn foal with a fatally fractured femur, I would not want it to suffer.
But "Hamlet" ends with a stage strewn with corpses.
I tried to get confirmation that such a leg injury is easily diagnosed, but the two vets I consulted disagreed on both diagnosis and prognosis.
John Neill told me "We have births daily and if something happens like this or there's a bad mother, we can't track them all accurately."
Is it fair to the public that our mustang foals are born and die without notice?
This is not Neill's decision; it is BLM policy. As with so many other BLM policies, the numbering of lives and deaths are rough estimates.
That's wrong.
There are no disposable mustangs. Taxpayers have no disposable income, especially for a system they hate.
There must be a moratorium on the capture of our wild horses, before a ruined system erases an entire species.
Labels: BLM, Fallon, helicopter roundups, Indian Lakes, mustang, wild horse deaths, wild horses
Permalink to this blog post
Posted by Terri Farley @ 1:17 PM
4 comments
---
Sunday, March 14, 2010
The Medicine Hat is Missing
Dear Readers,
Three wild horse advocates searched for this captive horse today.
photo by Mark Terrell
They couldn't find him. If BLM can't supply photo verification that he's still there, we need to know what's happened to him.
Those of you who read my books know that I'm partial to sorrel horses like Hoku and sassy little bays like Ace, but this horse, because of his flashy coloring SHOULD be easy to follow through BLM processing.
I will ask BLM if I can go out and search the corrals this week.
You can see more photos of your mustangs in the feedlot in Fallon
here
I'll let you know what happens next.
Terri
Labels: BLM, Fallon facility, Indian Lakes, Medicine Hat, wild horses
Permalink to this blog post
Posted by Terri Farley @ 9:18 PM
4 comments
---