Monday, January 04, 2010
A STALLION NAMED FREEDOM loses everything else

Pursued by a helicopter, Freedom's herd heads toward a trap
Update From The Field
By Craig C. Downer, Wildlife Ecologist
and Elyse Gardner, Public Observer
January 2, 2009
Below are the photos of the roundup that took place today (Saturday, January 2, 2009) showing how the captured band stallion, "Freedom," valiantly fought for and regained his liberty although he had to leave his family of 8 adult mares and 2 colts. Jumping a 6-foot fence and immediately thereafter breaking through a barbed wire fence and injuring himself, this was an awe-inspiring, do-or-die effort demonstrating the loathing of captivity to a wild horse and his need for freedom. We can only pray for his recovery from the injuries the sustained from the barbed wire.
FOR THE COMPLETE STORY, VISIT:
http://humanitythrougheducation.com/
Additional Note: On New Year's Day, the BLM rounded up 10 wild horses but only captured 9 because a 6-month old foal died en route. APHIS vet at the scene, Dr. Al Kane, reported that after being chased by the helicopter for "1/4 mile" the little foal was behaving strangely, lying down periodically. It is reported that the pilot radioed Dr. Kane that this foal was having problems and Dr. Kane went out to see the foal who was found dead. Dr. Kane said that he did a necropsy in the field and discovered congenital heart defect and said that foal couldn't have handled any exercise and probably wouldn't have lived to adulthood. They left the body in the field and refused to allow the public observers to witness the body.
Labels: BLM lawsuit, Craig Downer, Elyse Gardner, Freedom, round ups, stallion escapes, terri farley, wild horses
Permalink to this blog post
Posted by Terri Farley @ 8:02 AM
5 comments
---
Thursday, December 24, 2009
Too Early for BLM to do the Happy Dance
Dear Readers,
Sadly, the judge did NOT grant the injunction to stop Monday's round up, but we have half a victory.
He DID say that BLM has no legal right to stockpile horses in long terming holding pens, so they might want to hold off on the Calico round up until they know what they can legally do with those horses.
In Defense of Animals has already set Plan B into motion. Among the things we're doing is asking President Obama to give the horses a Christmas reprieve.
He did it for a Thanksgiving turkey, didn't he?
Hugs to all,
Terri
Labels: BLM lawsuit, In Defense of Animals, Judge Friedman, wild horses
Permalink to this blog post
Posted by Terri Farley @ 3:23 AM
1 comments
---
Sunday, December 20, 2009
Wild Horse News Galloping at You!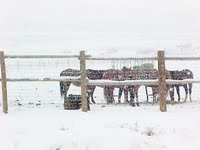 Dear Readers,
I'm amazed that the Phantom's story has led lots of you to be interested in what happens to live wild horses. The power & magic of words, has never been clearer to me.
Using notes from In Defense of Animals, here's a bit of what happened while I was in Washington, D.C.
>Lead attorney William J. Spriggs tells the judge a dozen (or so) BLM wild horse mistakes he's NOT there to discuss, saying those issues were for another day.
>Mr. Spriggs summarizes our case: the indiscriminate roundup of thousands of horses from the Calico range is illegal; so is holding 30,000 + wild horses in captivity, since that action was never authorized by Congress.
>The Justice Department attorney defends BLM's decision by attacking the plaintiffs (I'm one) by claiming no one would not be harmed by the removal of 80-90% of the horses on the Calico range,
>He likens helicopters to sheep-herding dogs, and says on-the-range determinations of the horses' health is impossible because BLM can't get within a mile of them.
>The DOJ attorney insists the 1971 Act forces BLM to maintain a healthy range for multiple purposes.
> Mr. Spriggs remarks that he wasn't sure what law the DOJ attorney had read, since we were talking about the
WILD FREE-ROAMING HORSE and BURRO
Act!
>Honorable Judge Paul Friedman asks great questions & observes that this is an interesting case, but asks for some additional information on case law because he wants to give a decision on the round-up before Christmas
>The legal team at Buchanan, Ingersoll and Rooney is fired up and working hard for the horses.
> I was thinking of you and wishing you could be there!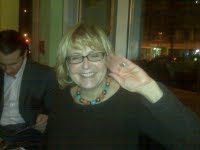 >Please keep your fingers crossed and pray for a good ruling for the wild horses!
Labels: BLM lawsuit, Buchanan, Ingersoll and Rooney, Judge Paul Friedman, mustangs shot, wild horses
Permalink to this blog post
Posted by Terri Farley @ 3:22 PM
0 comments
---
Saturday, December 19, 2009
CALICO MUSTANGS
Dear Readers,
I'm going to be out of the reach of Internet and cell, where the wild things are, for twenty-four hours.
Before I go, though, I wanted you to see how the Calico horses really look. Check this out on YouTube:
Starving and Inbred Horses?
The judge in this case plans to have a ruling before Christmas.
More info for you soon.
Hugs,
Terri
Labels: BLM lawsuit, Calico Complex, mustangs shot, wild horses
Permalink to this blog post
Posted by Terri Farley @ 10:59 AM
0 comments
---