Tuesday, April 27, 2010
You Do the Math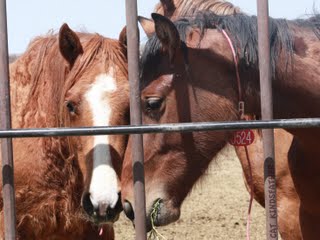 Cat Kindsfather's My Family, My Future, My Heart
Dear Readers,
Today I'll be attending the trial of two men accused of killing five wild horses.
Reno, NV --Wild horse advocates are coming to Reno on April 27, 2010 to witness Todd Davis and Joshua Keathly make their first court appearance for allegedly harassing and killing five federally protected American wild mustangs—shot on or about November 28, 2009 in Washoe county, Nevada. U.S. Magistrate Judge Robert A. McQuaid, Jr. will preside in Federal District Court, 400 S. Virginia Street, Reno.

Wild horse advocates find it unsettling to learn that Davis & Keathley are only charged with one count of causing the death of five wild horses for each man. Advocates are calling for charges of five counts, one for each horse as is standard with murder cases. If convicted of one count, each man will face a maximum of one year in prison and a maximum $100,000 fine.
I'll be taking notes and letting you know what happens.
Best,
Terri
Permalink to this blog post
Posted by Terri Farley @ 2:15 AM
---
Comments: