Monday, January 18, 2010
Honk for Horses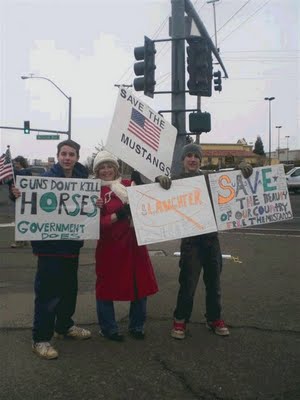 Travis Hernandez & Dylan Duncan with Terri at the peaceful "honk for horses" demonstration in Reno, Nevada. Clearly, not all horse lovers are girls :)
and, oh yeah, Travis' mom is Palomino, human mother to Chilly Pepper the Miracle Mustang and yep, it was pretty chilly out there. Chilly Pepper (almost 1) stayed home.
Permalink to this blog post
Posted by Terri Farley @ 10:32 PM
---
Comments:
Wish I could have been there. Thats a couple of nice looking young horse-loving guys there! =0) It always nice to see that girls arent the only ones passionate for the mustangs.
Right on Ms. Farley!
~HorseFeathers
thats so good to see that boys care about mustangs! Hope everything went great!!!
Save the mustangs!