Thursday, January 19, 2006
Book Reviews
Dear Readers,
Lots of you have asked me to teach you how to post book reviews & I'll do that soon. First, though, I'd love to hear from you about where you've read & enjoyed book reviews in the past.
I've included a couple places readers visit, below, but please email me your favorites and I'll share with everyone!
READING ROCKS,
Terri
Present:
Isn't this a cool review from
Gaited Horse Magazine
?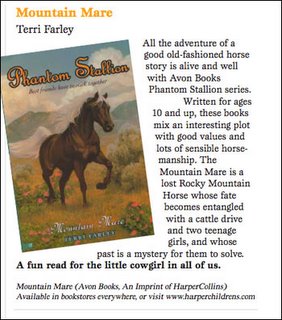 It appears in their Winter 2005 issue, released December 10, 2005 and it's in bookstores and on news stands now.
Future:
YOUNG RIDER magazine
is featuring Mountain Mare in the March/April Bookbag, too. Keep your eyes on their fun website for more details.
Permalink to this blog post
Posted by Terri Farley @ 6:25 AM
---
Comments: