Saturday, November 22, 2008
Wabi Sabi West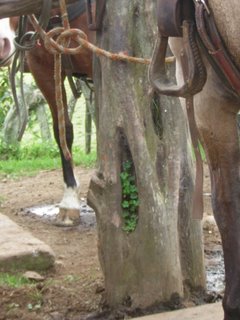 Dear Readers,
I know some of you haven't been with me since I started my blog and even some of you who HAVE been along for the ride may have forgotten that the name of my blog is WABI SABI WEST.
Given our economy, it's time you and I remembered how to appreciate things without dollar signs. So, here's a reminder, from my very first blog:
What is Wabi Sabi?
Way over-simplified, it's an appreciation for the beauty of things which are imperfect, incomplete, impermanent, humble or rustic.
Wabi Sabi is a Japanese concept and Wabi Sabi West is a celebration of how the idea touches my life with my readers. Wabi Sabi can mean "to everything there is a season". It can mean fitting yourself to Nature rather than exerting power over it.
There may be as many interpretations of Wabi Sabi as there are people who've felt it.
If you'd like a few examples, read on.
Imperfect -- like a smooth stone which just fits the curve of your palm, though the top is spiky with barnacles
Incomplete -- like a piece of old lace made for your great-great-great-grandmother's wedding day, fashioned into a veil that's unfinished because her husband-to-be died in a Civil War battle
Impermanent -- like a sunbeam dancing through dust motes
Humble -- like rescuing a spider before its sucked down a bath tub drain
Rustic -- like a wooden fence, paint peeling in a pattern that will only be created by winter wind and summer showers, only once, ever
I bet you've guessed that this little baby garden in the hitching post is an example of Wabi Sabi to me.
I'd love to know some of YOUR examples, too.
Hugs,
Terri
Permalink to this blog post
Posted by Terri Farley @ 4:04 PM
---
Comments:
Wow! That is so beautiful. I love things like that. I have an example of an Imperfect. Incomplete ~~ Like a scarf or balnket, made for a loved one, but the loved one is not loved anymore, so the gift is left incomplete.
gorgeous photo! here's one of my examples:
Imperfect- A smooth ocean blue vase, with a cracked edge
That is really cool. I don't have a horse and I guess an example for me is the feel of a horse's muzzle or the good sweet smell of a horse's breath because every time I feel that I'm not sure when the next time I'll feel it again will be. I'm not old enough to ride my bike up to visit the horses near by yet and my brothers never want to take me. so I guess that's my wabi sabi.
I realized how many mistakes I made in my comment. Please forgive me, haha. But really, I never make so many mistakes. So, you should be able to fix them in your mind if you read my comment. Sorry about all of them.
I guess my comment about the feel of a muzzle or the smell of a horse's breath is "impermanent" like you can't stand there all your life. Another impermanant one could be the moment your in the air when your jumping on horse.