Wednesday, November 12, 2008
Today, Wednesday, NOVEMBER 12 is the Day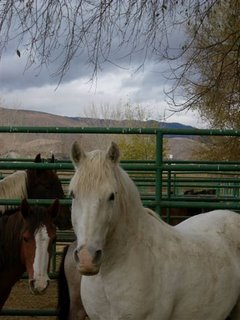 Right now, the real Phantom and his mate Shy are begging you to help save their Western family of wild horses!
BLM is ready to dispose of 33,000 captive wild horses through sale to killer-buyers or "euthanasia."
I hate to use their word for slaughter, because it's Greek for GOOD DEATH.
Here's how to help:
1. e-mail:
Ramona_DeLorme@blm.gov
2. include the identifier "WH&B" in the subject
3. include YOUR name and address (or that of your parents) in the body of the message.
If you live near enough to attend the meeting, I will see you there,
next Monday, 17 November 2008 at the Silver Legacy Resort Casino's Reno Ballroom, 50 East Fourth Street, Reno, Nevada from 8-am to 5-pm
Most urgent thing to include in your email:
Ask BLM NOT to approve any motions to euthanize healthy horses in holding pens
Then, make suggestions for solutions
Next, write to our new President. His two little girls NEED to see mustangs running free!
Go to
Change.gov
and click on Tell Your Story
YOU CAN DO THIS, EVEN IF YOU MISS THE NOVEMBER 12th deadline!
Last, forward a copy of your letter to
Wildhorsepower@aol.com
ALL OF YOUR EMAILS will be given to ME and if BLM says they haven't received many protests, I'll have a whole stack of printouts to PROVE YOU CARE
For more information, check
this link
Permalink to this blog post
Posted by Terri Farley @ 10:11 AM
---
Comments:
Hey Terri I was just wondering. Does it count if people from other countries send some e-mails in protest because I've got quite alot to say to BLM and i bet people out side the US do too. Will our e-mails be accepted? Oh and are there any companies like BLM in other countries that we should know of, so we can stand up against them too.
WOW! I am soooooooo gonna write to these people. The horses can't speak for themselves, so lets be their angels and save them!
I went to Change.gov and wrote down what I thought, hope it helps the horses!