Friday, November 07, 2008
Pretty (available) Baby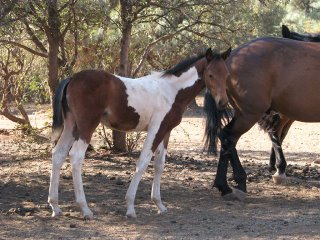 Dear Readers,
I just had to share a photo of a beautiful paint filly. She was supposed to be adopted on adoption day at the Wild Horse Sanctuar (home of the real Phantom) but it didn't happen :( abd now she's looking for a home.
Any takers?
Terri
Permalink to this blog post
Posted by Terri Farley @ 6:29 AM
---
Comments:
I have a three year old gelding that looks just like this except he has a little bit of white on his face!!
Courtney
OMG!She's sooo cute. I wish I could adopt her but my dad already rejected my idea of a horse on the balcony.
I hope someone out there will have the heart to adopt her.
Oh wow!!! She's beautiful!!!! Mybe I'd name her prettypaint! or shy boots. Wish I could have a horse!!! When I get a job.
Yeah she is so gorgeous. I wish I could get her but I'm broke too I'm trying to get one raking leaves but I really don't have the time. Hey Terri do you have any ideas for us readers who don't have the money to buy horses the or get riding lessons to find ways to get near them?