Sunday, November 09, 2008
BULL RIDER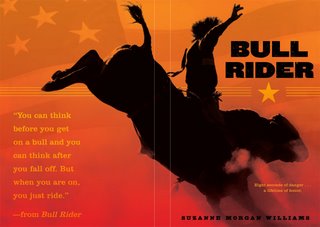 Dear Readers,
I'm so excited to share this with you!!!! My friend Suzy -- known to the publishing world as Suzanne Morgan Williams -- has an amazing book coming out in February and I get to give you a preview of the cover. This story takes place on a ranch in Salt Lick, Nevada. To tell you the truth, I think the main character might find a place in your heart right next to another young Nevada cowboy.
Ride 'em,
Terri
Jacket design and photo composition by Krista Vossen Jacket photographs of: the bull rider (c) 2009 by Charles Mistral/Alamy, flag (c) 2009 by Jeff Hunter/Getty Images
Permalink to this blog post
Posted by Terri Farley @ 2:00 AM
---
Comments:
Is the main character kinda like Jake???
Courtney
This looks cool!
He's a ranch guy from a traditional ranch family and yep, he has Jake's values, strength and guts !
OMG that's great. If you're mentioning Suzanne than she must be talented writer. Ican't wait to read the book it seems promising especially the main character part. I totally dig Jake so if you say it's true than I'm gonna love the book. Jake's personality is so eeek!(in a good way).
Please keep telling us about books like these. I really like it because it helps those readers who find it hard to find good books (especially if they relate to characters in phantomstallion!)
More later,=)
I am SO getting her book!!! And, besides telling us details, when it's coming out, her web site etc, any more about the Special Edition for Sammy?
I can't wait! It sounds awesome!