Thursday, October 30, 2008
No fainting when you recognize this character...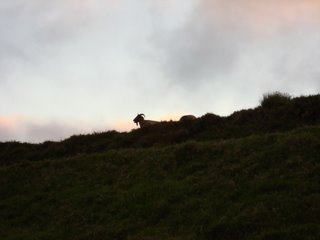 P.S. If you haven't yet signed up for the PHANTOM STALLION newsletter, better do it today.
http://www.phantomstallion.com/newsletter.shtml
Permalink to this blog post
Posted by Terri Farley @ 1:31 AM
---
Comments:
ooooooh! Is it Franny? I cant remember her name!!! It's the fainting goat of course. What's her name though??????????????
It's 4th of July dinner, or Francie the Fainting Goat! That is such a perfect picture, but I probably wouldn't have remembered if it wasn't for the don't faint thing, though
francie the fainting goat
whats her name?! the fainting goat... Francie?
lucky me, i didnt faint, but is Francie really that big? i had always pictured her tiny... not teeny tiny, just plain old smaller... [:
so cute. just wish we could see more of her body... thanks!!!!
It reminds me of Francie 'the fainting goat'!