Sunday, November 30, 2008
December Newsletter ALERT
Dear Readers,
Today is the last day to sign-up to be on the e-mailing list for my December
e-newsletter. I'm starting a new contest to win a plush PHANTOM STALLION ...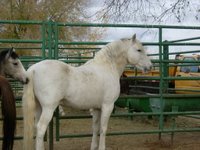 ...(not the real one, sorry!) to cuddle all winter, and the details about how to enter are included in the newsletter.
If you aren't on my email newsletter list yet, follow this link to
SignUpNow
!
Happy Trails,
Terri
Permalink to this blog post
Posted by Terri Farley @ 2:18 AM
---
Comments:
I've been signed up for awhile. How many people can win? Also, will they keep making and selling stuffed toys? Because I really want one!!!!!!
Oooohhh, I can't wait for it to come out! Thanks for the update, I'll look for it since I'm already signed up.