Sunday, October 26, 2008
Say Neigh to Cruel Horse Auctions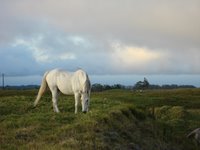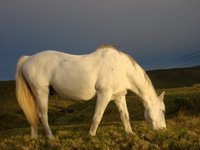 Dear Readers,
You know the power of STORY as well as I do. Here's a chance to help horses by telling their stories. They can't do this themselves, so please help IF you have ever been to an auction and seen horses abused.
The horse above was destined for death. Now, he carries riders, mostly children, on rides over the beautiful Dahana Ranch in Hawaii. But he is one of very few who escape.
I got news of a new campaign to help such horses from the Wild Horse Preservation League.
It's called:
PROJECT SHAKE-UP.
Have you ever been to a livestock auction and had a horrible experience? If you have, we invite you to join equine advocates all over America in Project Shake-Up.
The media can't act as a public watchdog if they don't know the problem exists. Let's help them expose this crisis by supplying FACTS!
*
Send your story
(complete with graphic photos, if you have them) of your sighting of equine neglect/abuse at a livestock auction to the addresses at the end of this blog. You can also participate if you have been involved in helping a friend who had such an experience first hand even if you did not.
*
Do you know names & locations of greedy auction dealers who ignore cruelty?
Expose them. We have been getting so many stories this past year on auction dealers selling horses that were dying,injured, starving or dying of thirst.
Stories have come in about empty water troughs, no food provided, knee-deep manure,horses sitting out in direct 90 degree heat for weeks at a time,handlers whipping the horses crying out in severe pain w/ broken limbs.
*
Dealers are selling "abandoned" horses without proper paperwork.
Certainly some of these horses have been STOLEN.
Advocates for horses are striking back! On Friday November 7th ( lucky#7) - advocates everywhere will be emailing their worst auction experiences to all three TV news networks.
Friday,November 7th - email in a word document your story/photos to :
Dateline NBC: dateline@nbcuni.com
ABC NIGHTLINE: nightline@abcnews.com
60Minutes: 60m@cbsnews.com
Permalink to this blog post
Posted by Terri Farley @ 3:17 PM
---
Comments:
WOW!!! That's awful!!!!!!!!! How terrible. I've never seen that, but I'll tell people about this.
I've never seen it, but I sorta know how it works. It is TERRIBLE!! they treat these wonderful animals like poopey!! don't they know if a horse is well cared for, they sometimes go for more money? These horse auctioners should treat the animals well, and it may help them more.
Even if I haven't seen it firsthand or know someone who has, is it okay if i thourally research it and write? I want to.